Kangra Valley in Himachal Pradesh is one of the 14 scenic valleys in the state. However, it would not be amiss to say that it is perhaps the most vibrant and diverse region. When it comes to Kangra Valley, most people know about Dharamshala and McLeodganj (places we are willing to give a miss). But there is so much more to Kangra than these two places. The abundance of deodar trees refresh the body and mind alike, the imposing Dhauladhar range provides for a mighty backdrop and the little villages warm the soul. 
To catch a glimpse of what Kangra Valley has to offer, one needs at least 6-7 days from Delhi. But to immerse yourself in its beauty and exceptional activities, any number of days can be added to the trip. Although brimming with beauty and warmth, it is somehow not as crowded as the more famous Dharamshala or McLeodganj. This makes the region even more charming and enticing – far away from the crowd yet resplendent. Still, it is not just the scenic beauty of this place that draws us to it. It is also the soul-fuelling experiences that it affords. While we fall into the category of people who enjoy simply unwinding in nature, we also routinely look forward to interacting with locals, giving our bodies something to sweat over and indulging in local customs. Kangra Valley offers the chance to do all those things with the added bonus of there being something for everybody – from hikes and treks to temples to adventure activities. 
Things to do in Kangra Valley-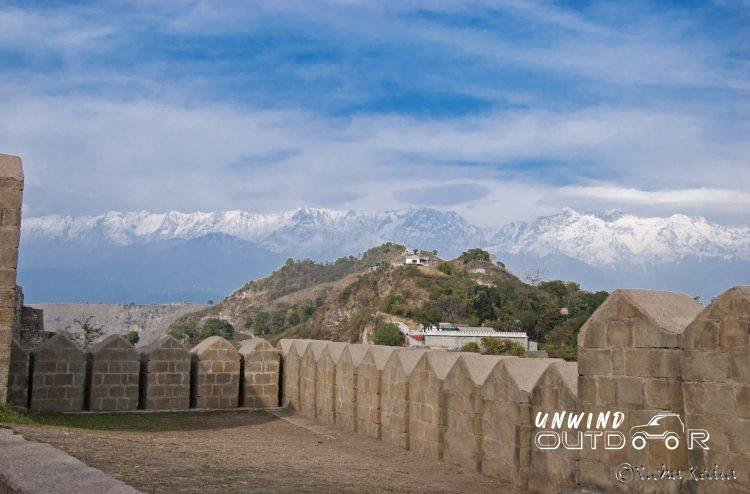 The colossal Kangra Fort is perched atop a steep cliff on the outskirts of Kangra. It is the largest fort in the Himalayas and the 8th largest in the country. Believed to have been built by the Katoch Dynasty, the fort has attracted mighty invaders such as Alexander the Great, Mahmud Ghazni, Jehangir and also the British. A visit to this Fort is a walk through the lanes of history, apart from being scenic as well. One can spend a few hours here simply absorbing the history and taking pictures. It is on the way from Chandigarh to Palampur and makes for a great stopover.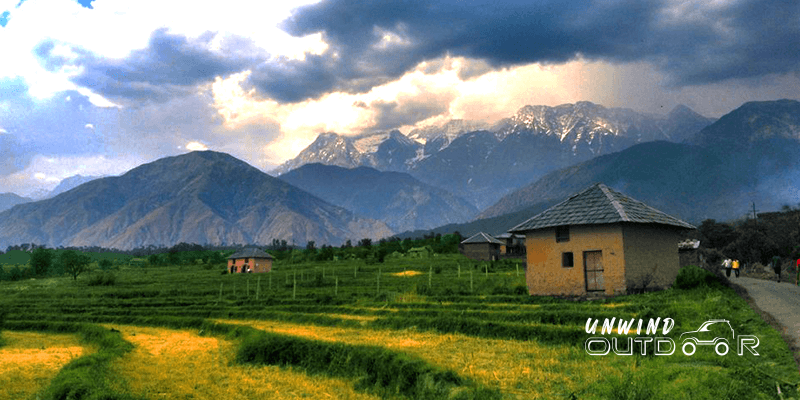 One of our favourite things to do in any region is to explore its villages. It is only amongst locals that one can get a true taste of the region. We love taking our cycles or even walking around to the nearby villages. Sitting in the family room, huddled around the warmth of a bukhari and laughter, being privy to the local way of life and sharing a meal with them are experiences one cannot forget. We have had some of our liveliest moments in the houses of locals, and we endorse the same to everyone. Kangra has plenty of such small villages that are utterly delightful to visit. 
Guests can stay in the tea estates of Palampur (such as the luxurious lodge at Wah), wake up to the verdant estate and fresh tea while the clouds paint the sky with their watery texture. 
There is also the famed Pragpur – the only village in India to be named a heritage village. The architecture here is from a bygone era, with mud-and-lime cottages covered by black-blue slate roofs and a Rajasthani-haveli like aesthetic. There are complexes of these heritage homes that one can freely stroll through and marvel at. One also must not miss the ornamental water tank which is fed by natural springs from a nearby village. 
Pragpur's sister village, Garli, is also part of the heritage village title. The houses here have a colonial influence. The charm that the carefully-preserved architecture lends to these villages is unbeatable. We strongly recommend adding this to your itinerary.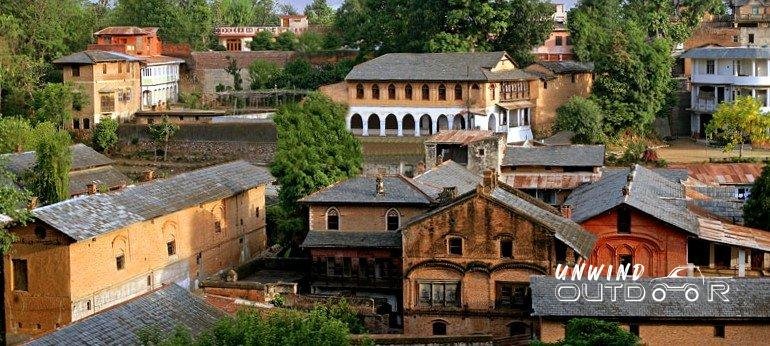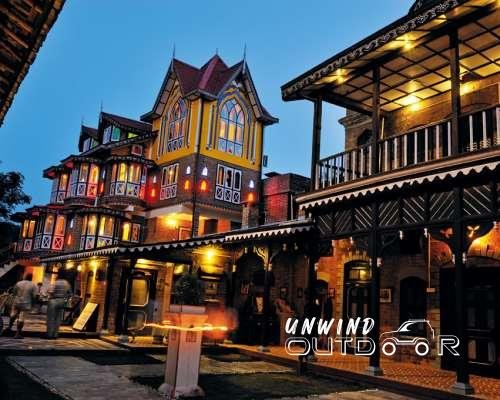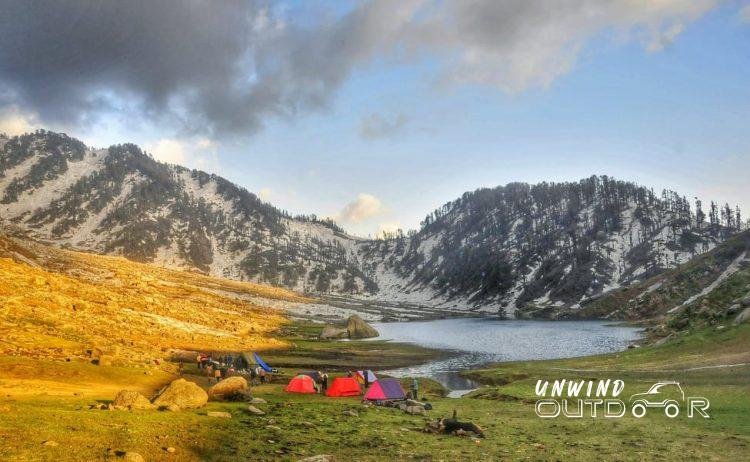 Any Himalayan holiday is incomplete without stretching those legs and reaching a vantage point. The Dhauladhar range is a great companion through these hikes, reminding one of the vastness of nature and the inconsequentiality of our worries. There are so many such hikes that one can take in Kangra, maybe even go on a forest trail run – one of our favourite activities. We offer many options for people of all levels and interests – temple and river treks, treks to alpine ridges, or more strenuous treks to higher glacier-fed lakes. Whatever your fitness level, it is a must that you explore the surrounding hills and forests on foot. 
Triund is a very popular trek here but we highly recommend the Kareri lake trek!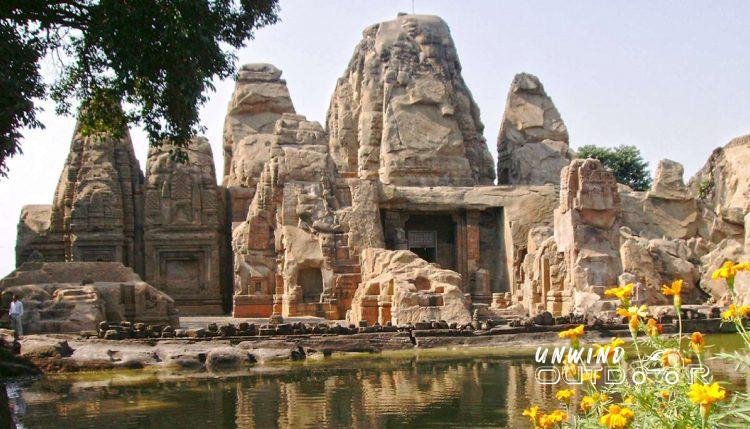 This region is also known as Dev Bhoomi for a reason. There is something utterly spiritual about being amidst nature and praying. Miles away from temples that people throng to for darshans, there is a still and peaceful aura around these temples and also the chance to spend time taking it all in. Most temples in the region come with their own folklore and legends, some spectacular carvings and their own USPs. From the Jwalamukhi temple where a fire always burns to the Dalai Lama Temple which is the seat of the Dalai Lama, the Baijnath Temple with its medieval architecture to the monolithic Masroor Temple, there is something special about each temple here.
Kangra Valley is home to more than 400 different species of birds. The Pong Dam is the best place to watch the thousands of migratory birds, especially during the winters. Straddling the Beas river, the wetlands are a gold mine for ornithologists. Even if you are not particularly fond of bird watching, just the sight of the river with some of the rarest birds around will be a new experience. Pong offers one of the largest concentrations of bear-headed geese anywhere in the world. Also seen here in large numbers are Pacific golden plover, Eurasian oystercatcher, Kentish plover and gull-billed tern.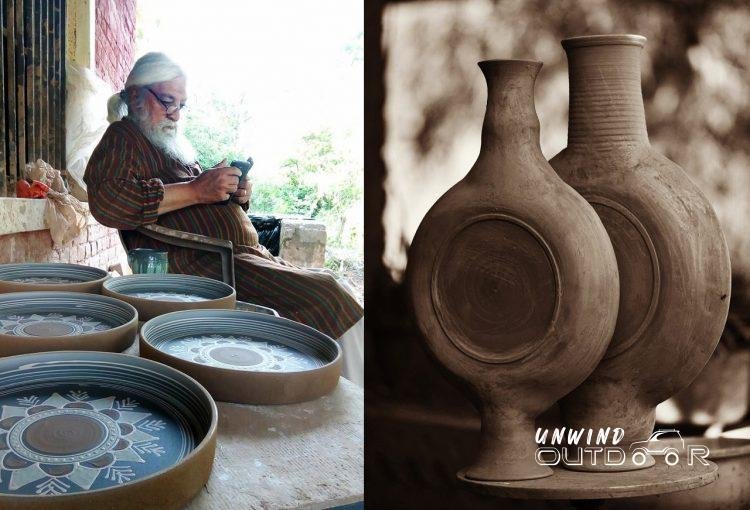 Little do people know that deep within the Kangra Valley, there lies an artist town called Andretta. Founded by an enterprising lady called Norah Richards as a melting pot of theatre, art and pottery, it is gaining popularity amongst artists once again due to renowned painter Sobha Singh, who also has a gallery here. Norah invited Sardar Gurcharan Singh, a master potter to Andretta, who built a small house and pottery here. Later, his son and wife started the Andretta Pottery and Craft Society here. Visit the society for a lesson in pottery, or even stay back in the village for their longer pottery workshops. But if you're only visiting for a day, try your hand at the potter's wheel, sift around in the museum and gift shop and enjoy lunch at the heritage hotel, Mirage.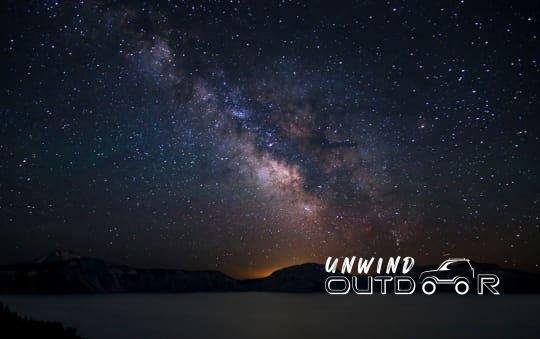 It is difficult to visit the mountains and not be swept up by the sheer beauty of the surroundings. One of the most pleasant ways to just sit back and enjoy the sights is to go on a picnic. The picnic can be combined with a hike or visit to Pong Dam. Carry it forth and enjoy a barbeque under the night sky. Spend some time stargazing and sharing stories around the fire.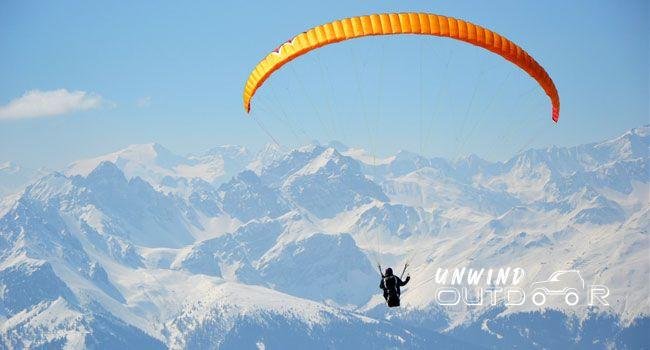 One of the best spots for paragliding in India is at Bir Billing. If you've always wondered what it would be like to soar like a bird, the verdant hills below and snow capped peaks all around, are the perfect setting for you to try. The facilities offered are world class here. If you're looking for a moderate dose of adventure, the 20-25 minute tandem paragliding is just what you need. It's safe, thrilling and beautiful all at once – an opportunity you should jump at!
At Unwind Outdoor, we are committed to providing the best experience for YOU. We are open to your interests and considerations to make completely customized itineraries. Depending on the duration of your trip, we are happy to add or subtract any of these activities into it. What we strive to create is a meticulously planned itinerary with all steps covered by us. All you need to do is show up!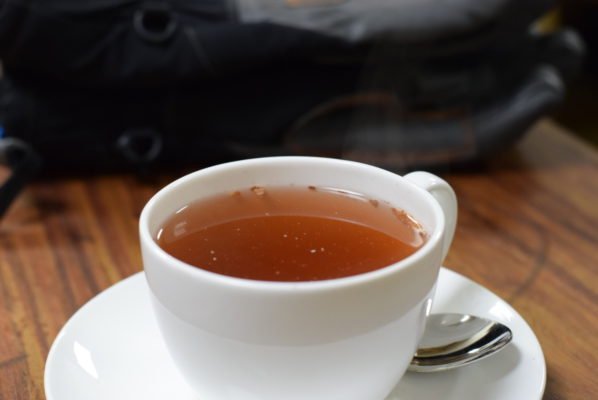 Cafes in Leh are our favourite attraction in the busy Leh Market! Coffee and travel [...]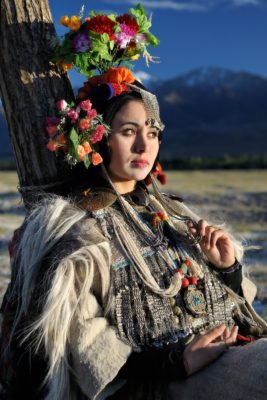 Ladakh is one of the last standing places in the country with a variety of [...]