Travelers who are willing to spend a little more to get a better experience and comfort at 11,000 ft. can opt for the Superior hotels in Leh. These are usually 3-star hotels with modern amenities and trained staff, multiple options in terms of cuisine and both open and enclosed spaces for guests to relax. 
Superior hotels in Leh –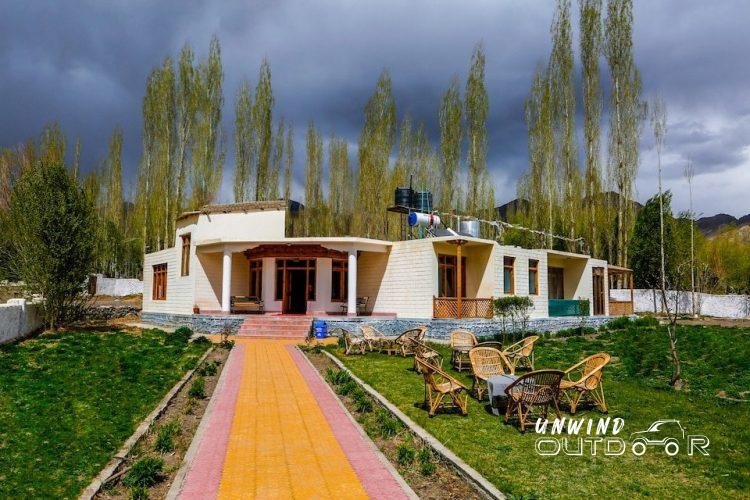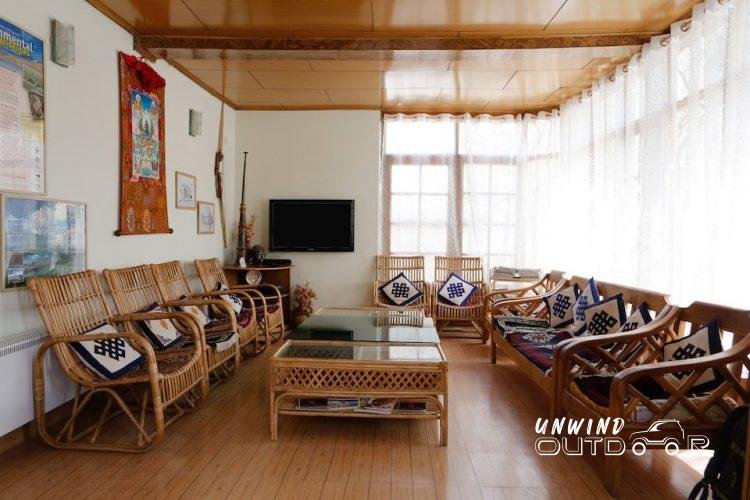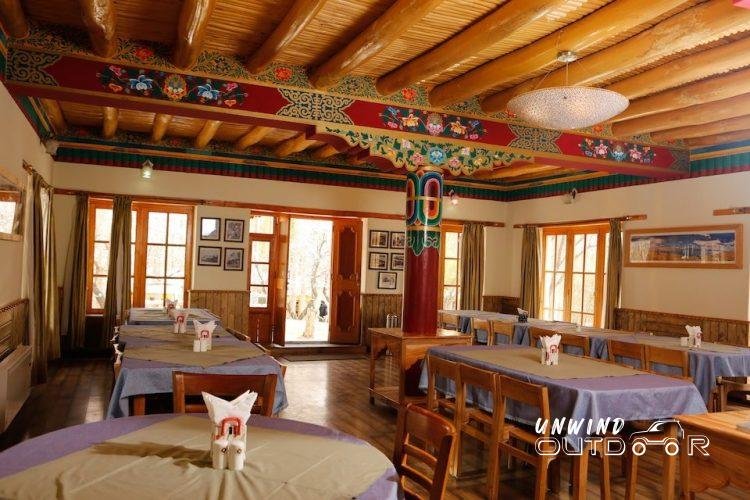 Property Details
Leh receives a maximum inflow of travelers during the peak summers i.e. May, June, and July. Whereas, other hotels do not usually have a green area due to climate conditions, but you can enjoy the shade of the green trees and cold breeze during the scorching hot days in Leh at Eco Poplar. The property is surrounded by Poplar, Apricot and Apple trees. If the owner permits, one can even pluck the apricots from the trees as well. One can order beer and enjoy the cool breeze and enjoy a lazy afternoon. There are many varieties of plants and flowers and comfortable seating spaces across the property. There are 20 cottages in the entire resort, with comfortable and cozy rooms and an attached washroom with clean linen and toiletries. The staff and the owner are courteous and the food served has earned many good reviews.
You can also describe it as an oasis in the desert! If you are the kind of traveler who prefers living closer to nature, you must head to Eco Poplar. It is also ideal for families and couples looking for a peaceful abode.
A resort with 20 cottages, it has poplar and apricot trees strewn around. 
Basic clean rooms
In the midst of nature
Peaceful Surroundings
Good food
Eco friendly and green
All amenities provided
Wifi in reception area only
"Resort is spacious and has lot of Poplar, Apricot and Apple trees. Green place in midst of Leh. Stayed here for 5 nights in June. Staff was friendly and helpful. One of the friends had mountain sickness in Leh and staff took good care of him. Food tasted nice. Situated at about 15 mins walkable distance from main Leh market and hence has access to restaurants. Overall felt that this was a very nice place to stay in Leh."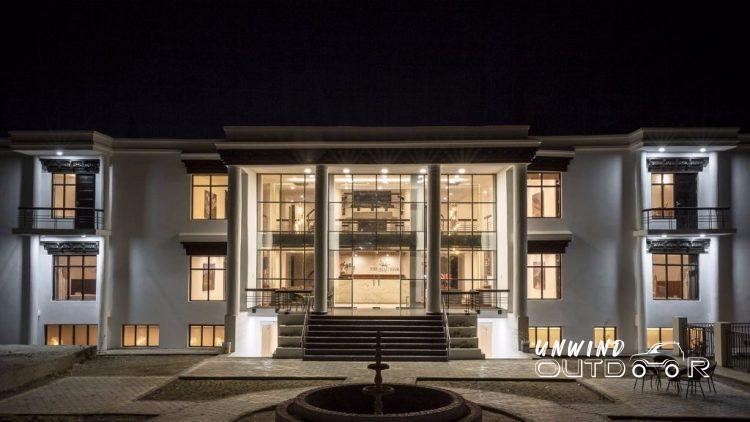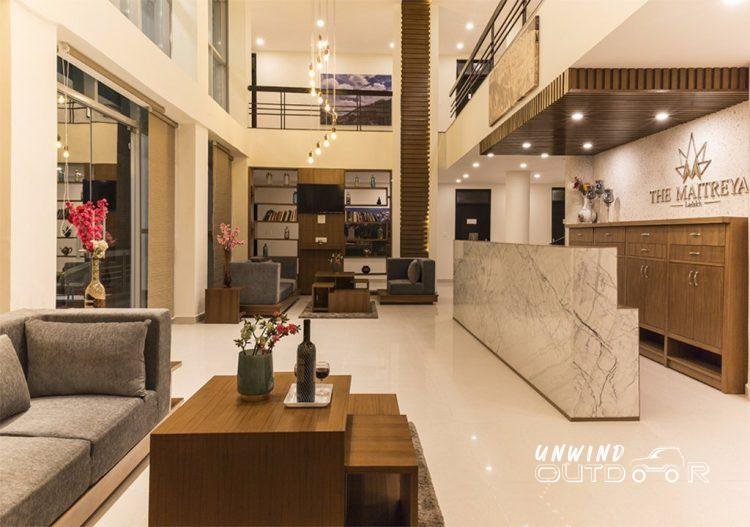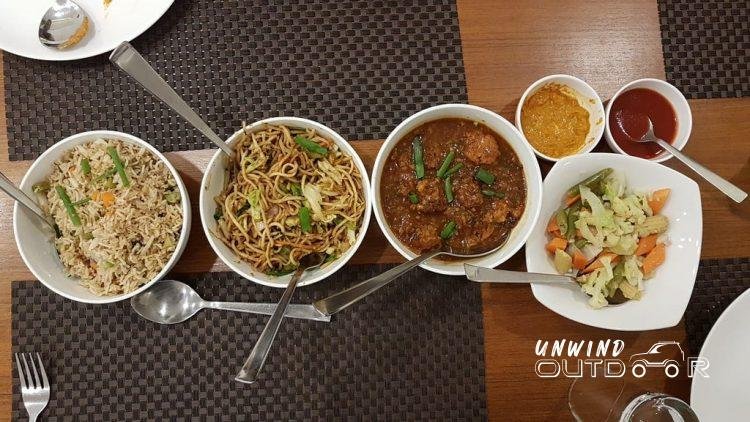 Property Details
A contemporary hotel with 24 opulent rooms, comfortable bed, and seating area. The decor of the property is modern so are their services. There is a 24-hour reception to cater to the guests and a manager to host you. The staff is always on toes to serve you. Wooden flooring, central heating, and a quiet location, it's a pleasurable experience in all. 
The breakfast and dinner spread has a decent number of options, mainly catering to Indians. They make great Indian cuisine and sometimes even add a few Chinese or Italian options. There is a small lawn in front of the main building with flowers and a few trees in the vicinity. 
We suggest you choose rooms on the first floor to get a better view of the mountains. It has a plush feel and offers a holistic experience of staying in Leh in a premium property. The rooms are very spacious and can accommodate an extra bed very easily.
We recommend this property for families and people looking for an ideal hotel experience.
A modern hotel furnished in business style. It has 24 rooms with many food options available.
Plush modern rooms
Premium upholstery
All amenities provided
Clean modern Bathrooms
Good Dining variety
Good service
"We stayed here as a group of 2 couples for the first 2 nights of our trip and it was an extremely great expereience for all of us. The rooms were neat and clean and the food was awesome. However the best part was the professional staff who are very well committed in ensuring that the guests have best of their time. They will guide you in terms of what needs to be done to settle down in first few days to get use to the high altitude climate. Further we also had a medical emergency and the staff arranged for the cab in no time. Will definetly recommend this hotel to everyone"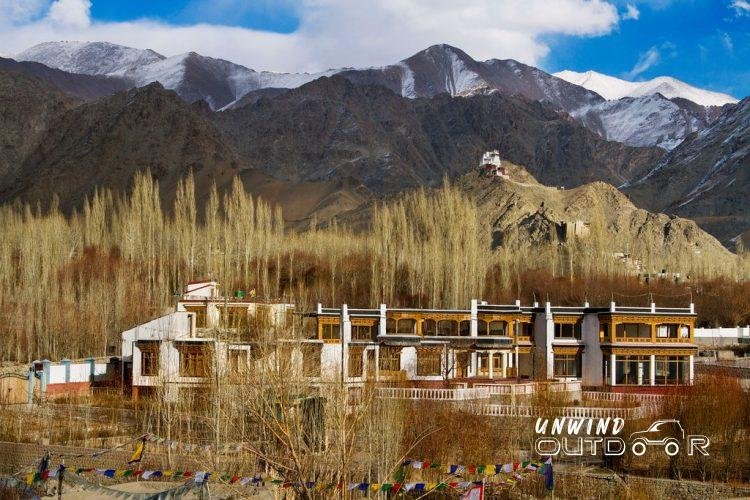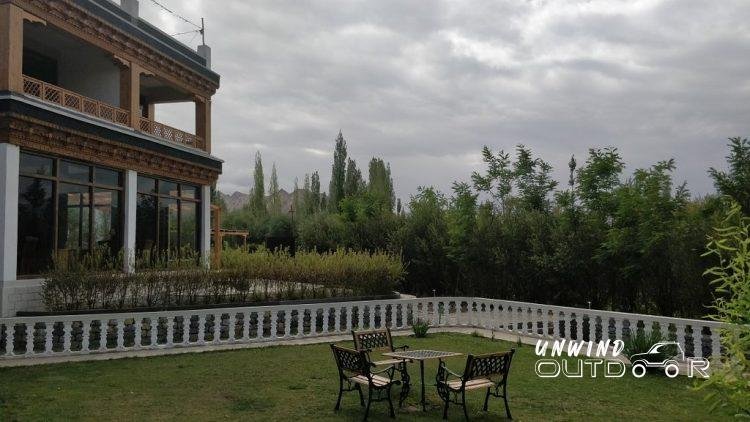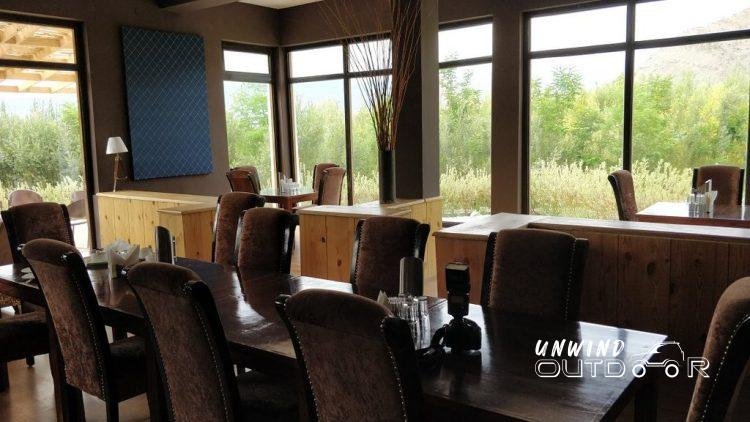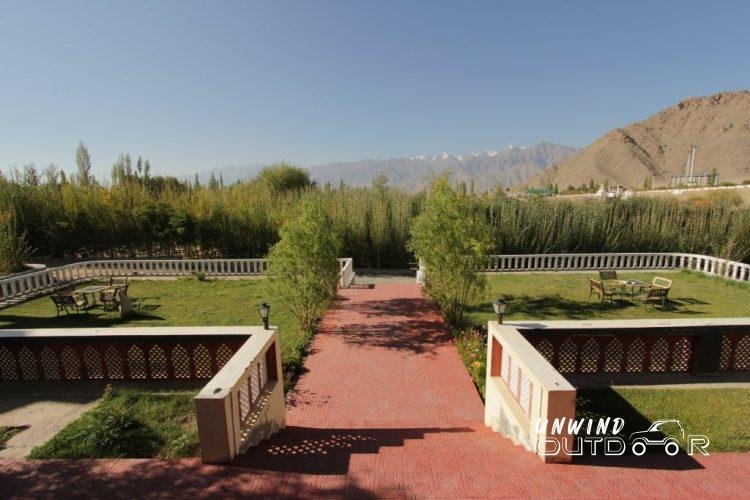 Property Details
The first impression when you enter Ladakh Retreat is that of a serene setting. One can see the mountain peaks, the waving National flag, a green porch, and a beautifully crafted property. There is a huge garden area where one can just enjoy the view while they sip on mint tea. There is a patch of land with bamboo shoots which makes for a very photographic location and a big enough area in the property for a walk. It has the feel of a hotel to it too and we suggest you opt for the front-facing rooms to enjoy the best views, else, you might be disappointed. They have 18 contemporary styled rooms with an essence of Ladakh in them. One can enjoy the majestic view of snow-capped mountains from their private balcony/ verandah. The washrooms have toiletries and hot water available at all times. 
The breakfast and dinner spread has multiple options to choose from and one can even request the Manager for light meals, in case required. The Manager is accommodating and understanding. 
Please remember, only BSNL is operational in Leh in terms of broadband, at some hotels including Ladakh Retreat you need to come to the Lobby to access the Wifi. 
Overall, Ladakh Retreat is a good option for families as they have spacious rooms and good service.
A stand alone property located far from the hustle-bustle of Leh, it is close to Leh Airport.
Far from crowded areas
Fantastic views
Exceptional service
Lush greenery all around
Impeccable Hospitality
Basic bathrooms
Average food
"We had a great stay here, with two rooms, both of them had pretty nice/big balcony, the rooms are decent in size, and have all amenities. The views from the balconies are just great, and the best part is the location of this hotel, its not in the city, so you don't have to get into the narrow lanes of leh city, it is slightly on the out skirts, and thats what adds value. The Shanti stupa is just about 10 mins drive from here. The food was also great, and they have lots of open space outside their restaurant. The only drawback was that wifi used to come only in the lobby and not in the rooms."
4. Oriental hotel & guesthouse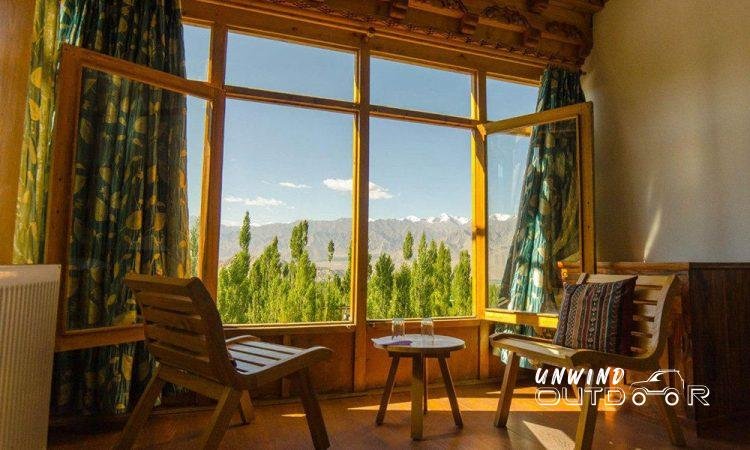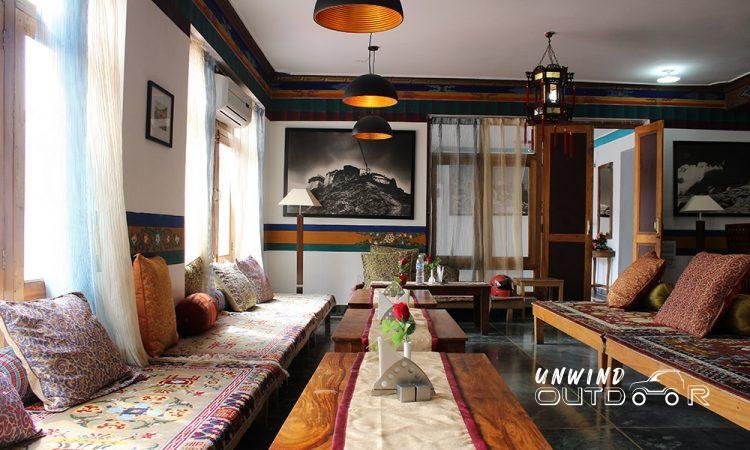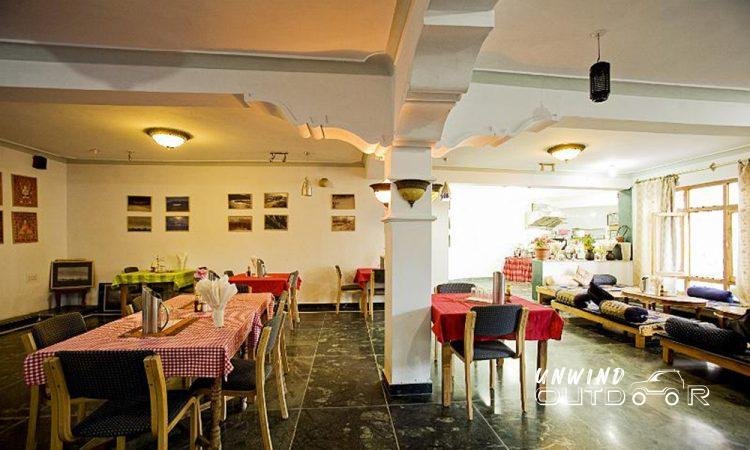 Property Details
An appropriate option for pure vegetarians backed by years of service, this property has a guesthouse and a hotel on the same premises. It is recommended to stay on the 2nd or 3rd floor to get the best views of the city. Located just below the Shanti Stupa, everything is a stone's throw away. Unlike many hotels, Butler's service is also available here. Though it is a property with many rooms now, it is a calm and peaceful abode. They have a warm common area where one feels at home and a library that is tucked away in a corner. One can read and enjoy a cup of coffee here. An organic farm with many vegetables and flowers adds color to the property. 
Needless to say, good staff is what makes accommodation memorable. Since it is a family-run place, you can feel the warmth and humility emanating from them. 
This is a highly recommended accommodation for people who are vegetarian.
A hotel amidst the dramatic landscape of Nubra Valley, Spread across 3 acres of land ,Stone Hedge is built amidst of free flowing brooks , lush green tress and surrounded by mighty mountain just on background .
Superior and budget rooms both available
Amazing views
Premium upholstery
Lush greenery all around
Impeccable Hospitality
Vegetarian food
"Great Hospitality…Great View and Very Honest Staff. I stayed at Oriental for 3 days at a stretch and then a day again post a break. I had lost my wallet with lot of cash and Id's and i did not remember where. To my pleasant surprise, on my return, my wallet was promptly returned to me even before i could mention it.
As far as the hotel ambiance is concerned, rooms are good with great view of the mountains. Was also allowed to pluck apples from the Tree in the Garden. A great experience overall"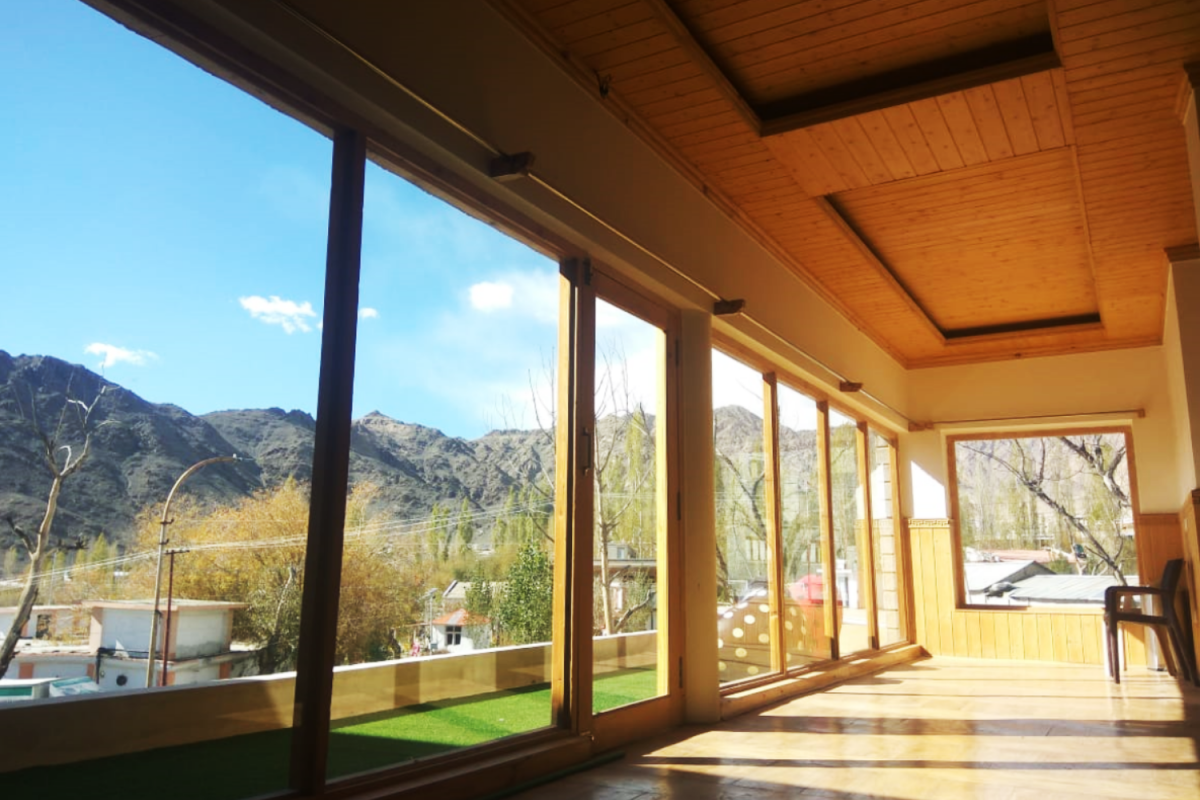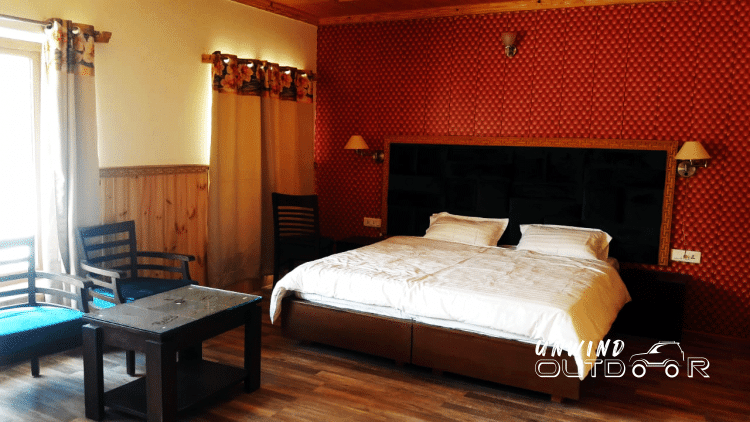 Property Details
Another great option for pure vegetarians coupled with the local vibe of Ladakh, Chantsa is a brand new 3-star hotel making it a great place to stay. The rooms are excellent, spacious and comfortable with decent furniture and extremely comfortable beds and pillows. Most importantly, they are insulated using local pine wood which keeps them warm. The rooms also offer fabulous views of the snow-capped mountains from large French windows. There is running hot water all day and bathrooms are decently stocked and spacious. The owners and the staff are super prompt and helpful. 
The food is also delightful and purely vegetarian.
As reviews say, people rate this place 5 star and staff 7 star!
Simple hotel with nice views in Leh town.
Basic clean rooms
Nice views
Local vibe
Great service
Warm staff
Vegetarian food
All amenities provided
"This was my second visit to leh and it turned out to be d best one till date. Stayed @ hotel chantsa and that just made my trip a memorable one 🤩staff is very humble and always on their toe to help even at odd hours the staff was there to help .The warm welcome by the manager Sukesh ji and his best manager hosting made our stay @ chantsa a pleasant one 😊I would highly recommend this hotel as it has possible all the facilities.Good view from the hotel room .. clean rooms and yummy food 🤩Thank u sukesh ji for d best hospitality"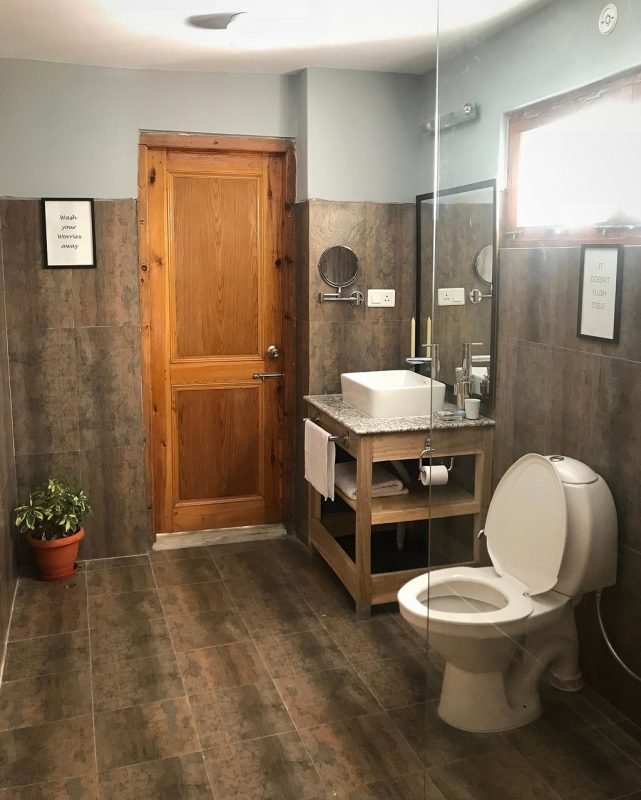 Property Details
Boasting of a natural spring on site, the Jade house may be relatively new but is situated on land with a lot of history. Comprising 7 bedrooms, 5 of which can be booked by guests, there are attached bathrooms in all with glass partitions and running hot water. The first floor has a big balcony with sun loungers and the owners plan on conducting open-air movie nights soon. They follow a farm to table approach and the food is always fresh. Situated just 400 meters from the center, in the most eco-friendly part of town, all attractions and restaurants are close by. 
Stay here for a boutique experience for a splendid vacation!
A boutique eco-friendly property in Leh. Close to the main town.
Eco friendly
Amazing views
Premium upholstery
Beautiful rustic rooms
Warm staff
Amazing hospitality
Delicious food
"We stayed in Jade House in Sept 2019 for 3 nights all together. Do not be fooled by the access to this brilliant property. The house is fabulous with well appointed and bright room with all the necessary amenities one could want on a holiday and more. Tsezin the host and owner is a very warm young lady, smiling all the time and always willing to please her guests. The food is excellent and tasty and you are made to feel like a king in this beautiful house. Not to mention the fresh apricots and apples growing in the garden. Highly recommended for all ages"