Imagine yourself driving on a smooth road, between desert land on both sides and the mighty mountains right in front of you. The sight is too overwhelming to be satisfied with just seeing. You take your face out of the window and are hit by a blast of cold wind and in the distance you see the Shyok river flowing and as you turn, you witness the mighty statue of Buddha. This is Nubra for you! A huge expanse of land where you see sand dunes, rivers, snow clad mountains and monasteries, all together. It also acts as a gateway to Turtuk and Bogdang and is the first base to reach Siachen Glacier from India. There are many places to explore in Nubra but when people travel, they usually stay here for a couple of days to experience famous activities such as riding a Bactrian Camel, visiting Diskit Monastery, visiting Turtuk and exploring Balti culture, etc.
Nubra Valley Accommodation – 
1. Cold desert camp (hunder)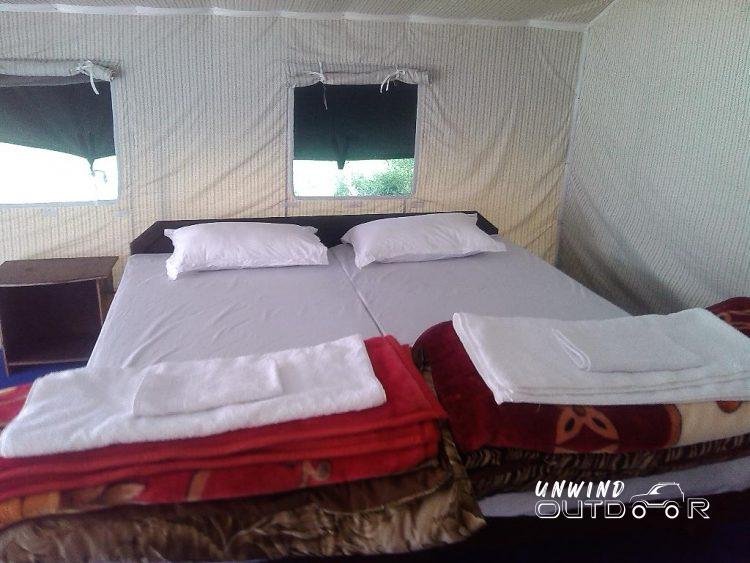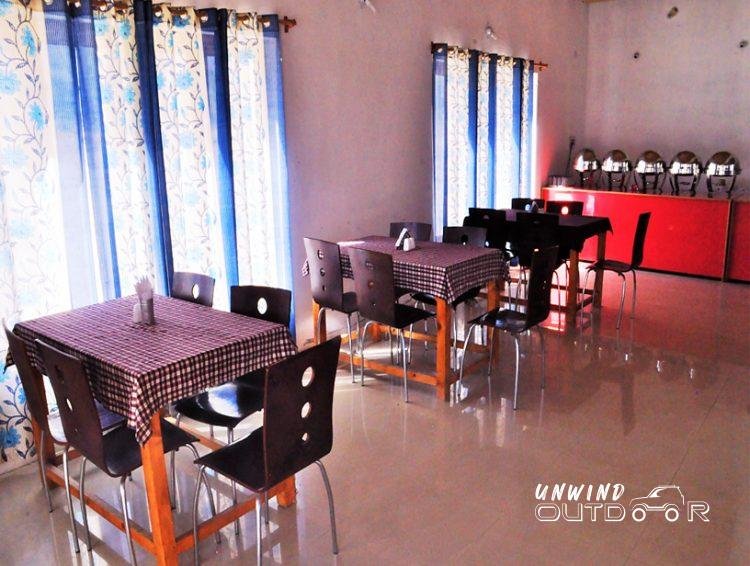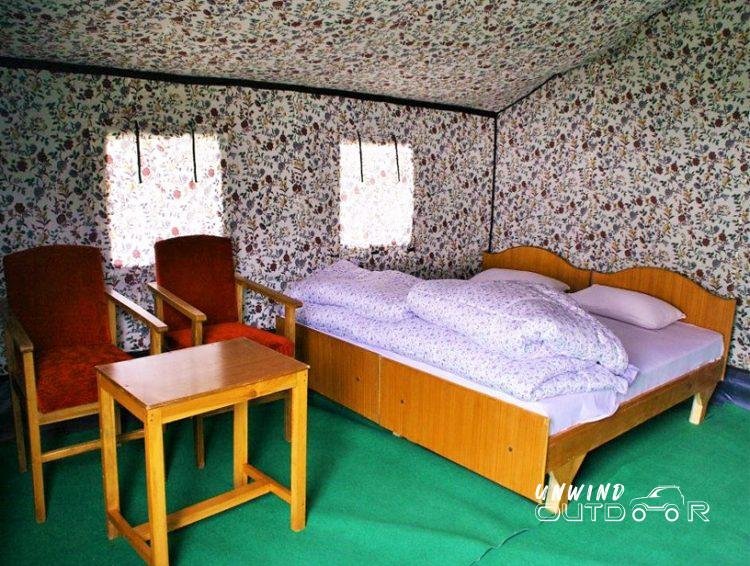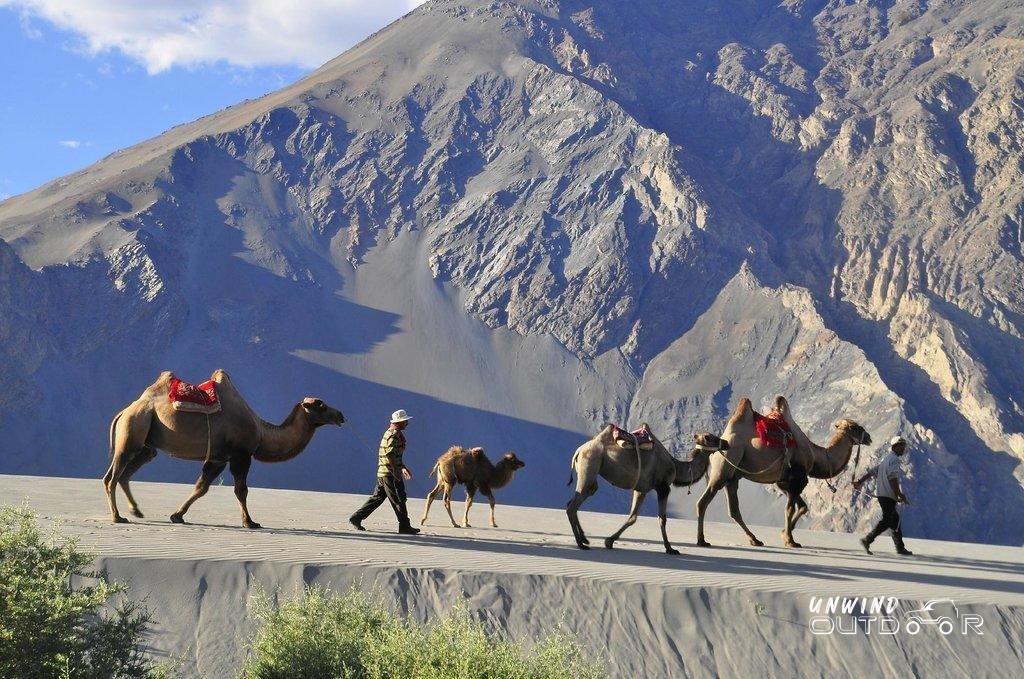 Property Details
Located at the bank of Shyok river, this camp offers an unparalleled experience of Nubra. The camps are spacious and have twin beds with warm quilts and comfortable mattresses and pillows. There are attached washrooms with hot water and electricity only during the morning hours. There are no televisions, no internet and even no mobile network except BSNL. The only way to enjoy this place is to be one with nature. The amenities are basic but very clean. The food is basic and healthy. 
At times when people have to leave early for their onward journey, the staff makes the extra effort to pack breakfast and even provide early morning tea/coffee to the guests. Cold Desert doesn't leave a scope for complaints.
An ideal place to unwind, one can walk along the river for hours, even the sand dunes are at a walking distance and so is the site for riding the bactrian camels. 
At night, one can enjoy stargazing and even spot the milky way, despite the chilling weather. 
It is a recommended place for people who would love to enjoy nature and are happy staying in a basic set up.
A camp spread around an amazing location. Basic tents with warm hospitality.
Basic clean tents
Well managed
Peaceful Surroundings next to Shyok River
Good food
Warm Hospitality of the owners and the staff
Basic amenities provided
Limited hours of hot water and electricity
2. Sand Dunes view resort (hunder)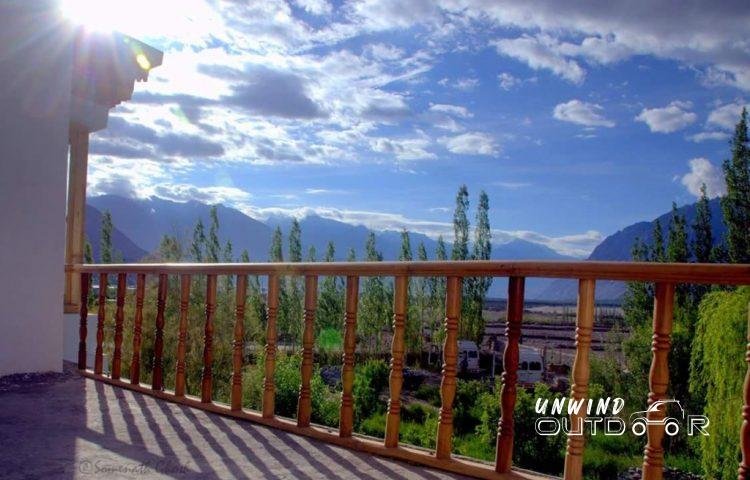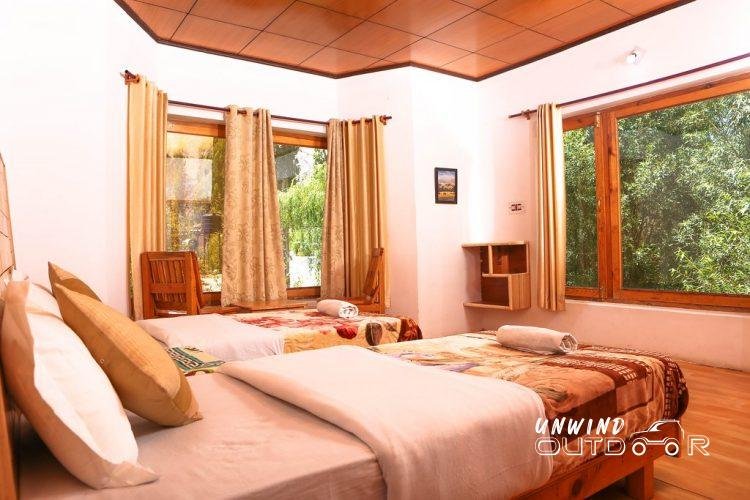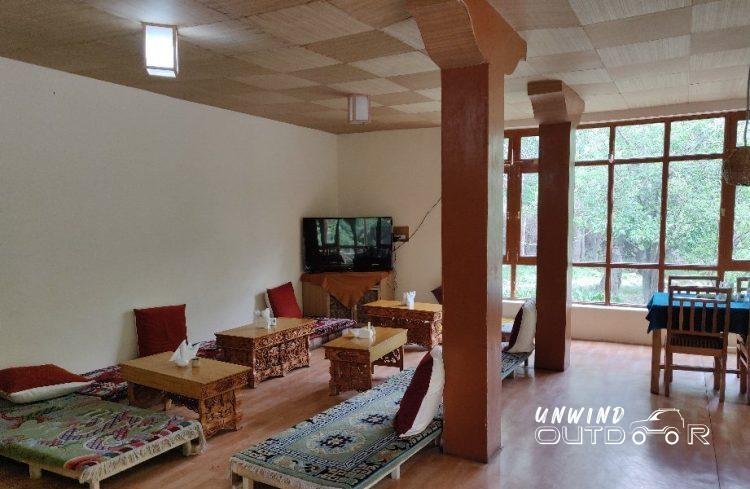 Property Details
A small property with 11 rooms in the picturesque village, overlooking the Shyok river and the sand dunes of the valley, Sand Dune View is surrounded by vibrant trees of poplar, apple and apricot. The rooms are basic with an attached washroom with 24 hours hot water powered by their solar water heater.
Despite being located towards the interior of the region, it feels like home here. There is lush greenery all around in the summer months. The property is picturesque from inside as well as outside. The owner is friendly and warm. 
The food served here is delicious and simple and soothes your stomach, although the breakfast buffet is limited. They are a tad bit understaffed but their service is on point. 
Sand Dunes View Resort, is an eco- friendly Resort comprising with 11 well furnished modern style room , with independent and private bathroom. From the window of the room affording a grand view of the snow – capped mountains, surrounded by vibrant woodlands and majestic plantation of poplar, apple and apricot.
Spacious and airy rooms
Premium upholstery
Peaceful Surroundings next to the Shyok
Functional Bathrooms
Great Dining experience
Warm Hospitality of the owners and the staff
3. Nubra organic retreat (hunder)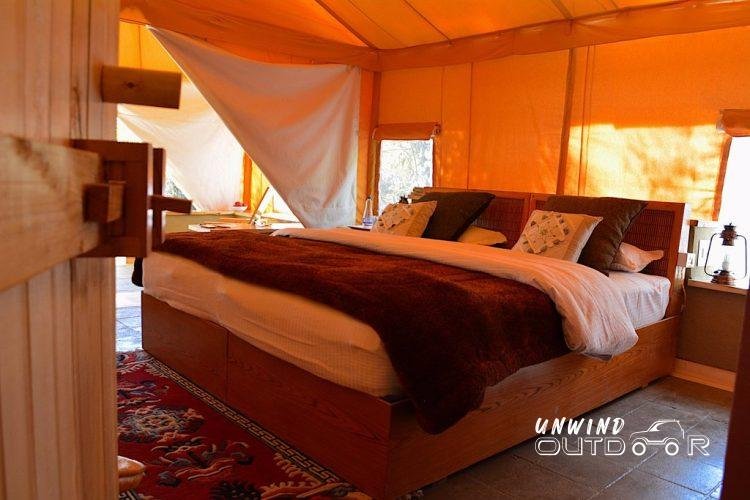 Property Details
Set amidst majestic forests of poplar, willow, magnificent walnut, and fruit-bearing apple trees, an organic vegetable garden, chirping birds all around, refreshing mountain air, this impeccable lodging also provides a bonfire and has a gurgling stream flowing through the property. Nubra Organic Retreat offers the best possible experience for all those longing to spend precious moments in the lap of nature. If you're looking for a romantic getaway amidst nature, or just to break free from the hustle and bustle of habitual life, spend some time here. There are no televisions in the tents and everyone has to visit the common area to enjoy television or play board games. 
The luxurious tents have been thoughtfully set up without unduly disturbing the local vegetation.The deluxe tents are very well appointed with an anteroom, bedroom and attached bathroom – all accessorized with local stones, pebbles and wood.
There are hammocks and seating areas spread out around property to laze around with a book. There is also a badminton court here to enjoy a game in the great weather.
Organic Retreat is a great place to spend a couple of days with your family.
Built on the theme of organic farming. Started by a retired school teacher and his late wife Mrs Tsering Dolma, who was a famous farmer of the region and also a recipient of many awards including national award for innovation in subsistence based agriculture. Set amidst majestic forests of poplars, willows trees, magnificent walnut, fruit-bearing apple trees, organic vegetable garden, chirping birds all around, refreshing mountain air, gurgling glacier streams, the impeccable lodging, dining and bonfire.
2. Sand Dunes view resort (hunder)
Basic comfortable tents
Amazing views
Bonfire available
Lush greenery all around
Impeccable Hospitality
Modern bathrooms with natural elements
Amazing food
Beautiful resort for staying in Nubra Valley. The tents were spacious and comfortable and as promised per the timings for electricity and hot water were there.
Breakfast and Dinner were part of our package and the food was excellent with plenty of choice at each meal and each item tasting wonderful especially the vegetables from the camp garden. We were lucky enough to see a cultural program at the camp site as well as enjoying the many activities available on the site.
Only drawback was the WiFi which was a bit patchy in connecting but one comes to this type of place to relax and enjoy the tranquility.
We would highly recommend and if we ever back in Nubra this will be our choice of stay.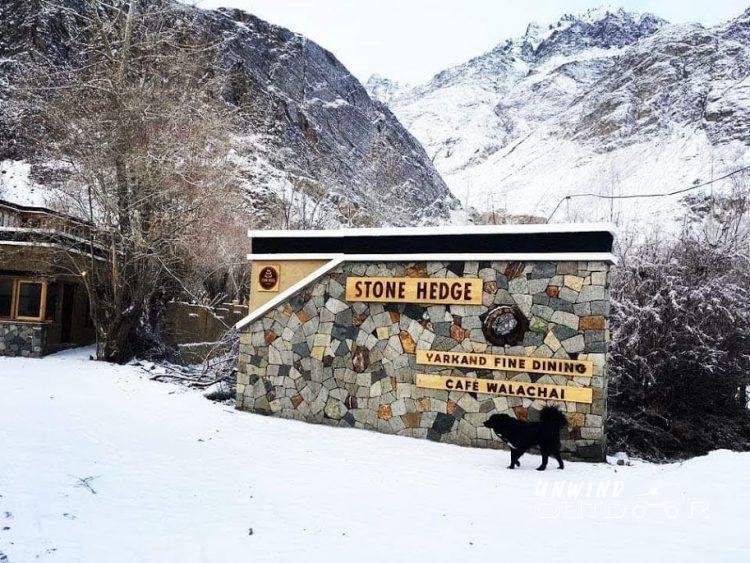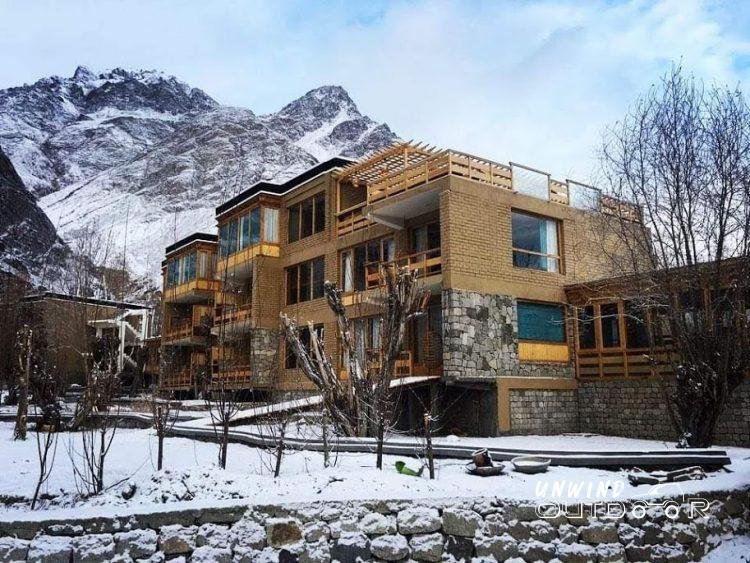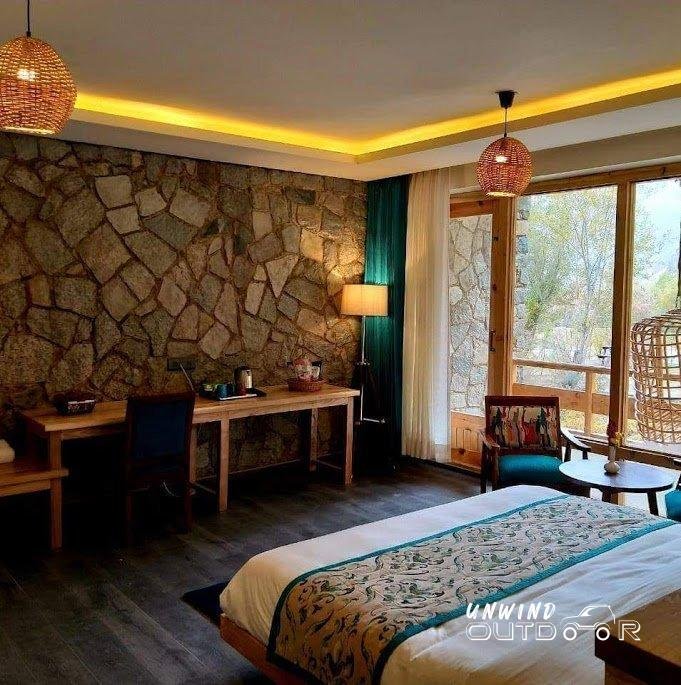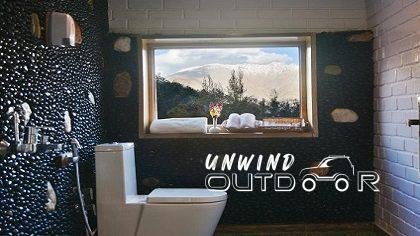 Property Details
An epitome of aesthetics and nature coming together, spread across 3 acres of land, the Stone Hedge is built amidst free flowing brooks, lush green trees and is surrounded by mighty mountains in the backdrop. It has been constructed using local material, mud, and wood. We recommend this to guests who are looking for uber luxury and excellent service in Nubra Valley. 
Although power is available only at limited hours, as can be expected in remote areas, the rooms are very luxurious. For all animal lovers, the hotel also has a super friendly dog named Jerry. The staff is attentive and cooperative. The breakfast spread might be considered limited but the view of the mountain while sitting at the restaurant cannot be beaten.
This is a place that you would definitely want to come back to!
A hotel amidst the dramatic landscape of Nubra Valley, Spread across 3 acres of land ,Stone Hedge is built amidst of free flowing brooks , lush green tress and surrounded by mighty mountain just on background .
Plush and big rooms
Amazing views
Premium upholstery
Lush greenery all around
Impeccable Hospitality
Big modern bathrooms
Amazing food
Wifi only in reception area
"One of the finest stay during our Leh trip even at minus 30 degree temperature in month of January February we really enjoyed our stay at stone hedge .my full recommendations for this place. Staff is very cooperative and friendly specially Ganesh. In so much so cold staff did there best to make us comfortable not only this they even have a wonderful cuisine. Enjoying wonderful food at such a distant place is really a wonderful lifetime experience. I even wish to mention miss Kunzang doller and miss Sonam palmo who were managing everything ,there management is of next level in terms of perfection. My recommendation Location 5/5 Comfort 5/5 Food 4.5/5 Hospitality 5/5.
I sincerely recommend this place when ever you visit Hunder nubra valley."
5. desert himalaya (diskit)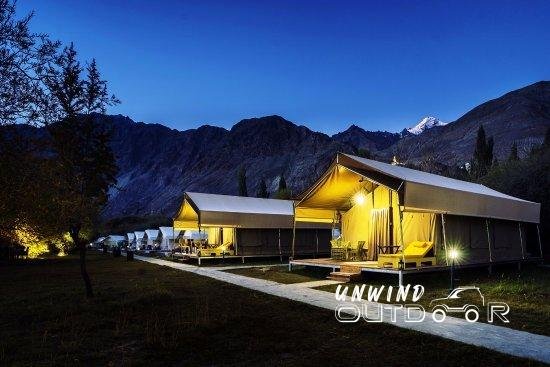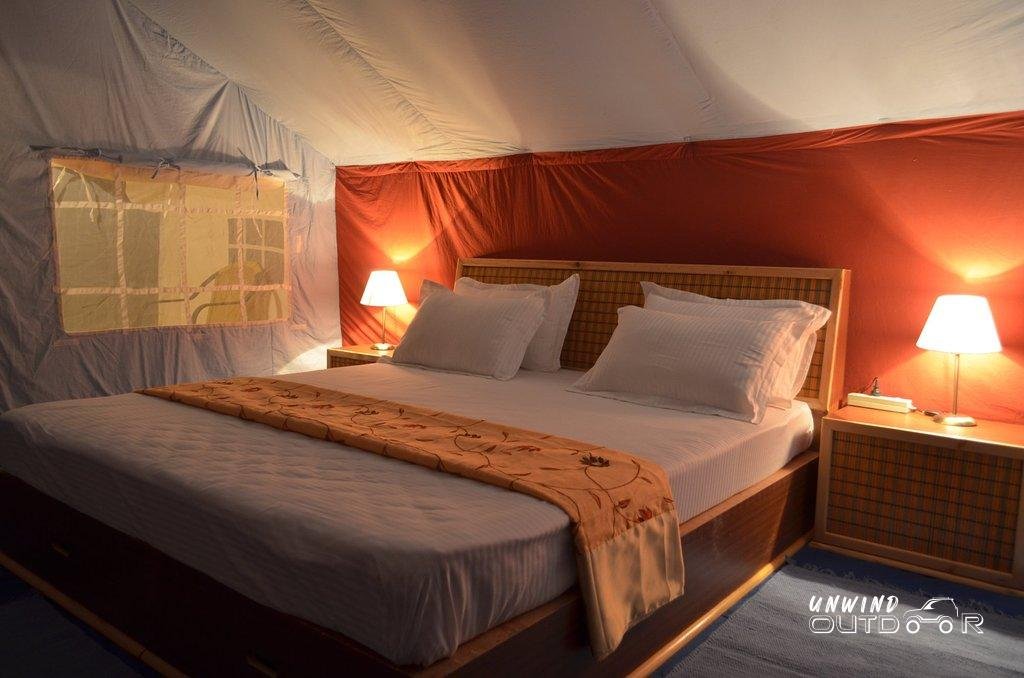 Property Details
These camps are located near Khalsar Sand Dunes and get unparalleled views of the Karakoram and Ladakh Range. The resort offers a comfortable stay at a very remote location. There are 4 categories of accommodation available – deluxe, luxury and premium camps, and trailers. The rooms are equipped with good quality beds and mattresses, an attached modern bathroom, with running hot/cold water. The dining hall can cater to 80 people at a time and offers Continental, Asian & Indian meals. As electricity supply is an issue here, there is a powerful genset which provides power in the evening from 6pm to 11pm.There are emergency Led lamps in each room.
This place is heaven for people who love outdoor sports as one can enjoy football, volleyball, basketball, badminton, cycling, archery etc., you name it. 
In addition to all the above activities, at Desert Himalaya Resort there is a natural spring river, fish pond and a wishing tree. Indoor games are also available like Carom, Chess, Mini Ice Hockey, Housey /Bingo, Playing Cards, Mini Golf and a Professional Pool Table. Also available are on demand bonfire services and a veg barbeque to enjoy with your drinks.
A resort with diverse kinds of accommodation – from luxury to basic tents. Set in the lap of nature.
Wide variety of rooms
Amazing views
Premium upholstery
Set in the lap of nature
Warm staff
Modern bathrooms
Good food
Only vegetarian food available
Generator can be noisy at night
"After traveling for 4 hours from Leh we stayed at this tent surrounded by mountains and desert. There are 3 types of camps with hot water.( time restricted) they serve you food in the restaurant. There is nothing available nearby. Better equipped before leaving. We enjoyed camel rides and ATS motor bike riding here.The evenings are fun with live music and bonfires. Somewhat different experience."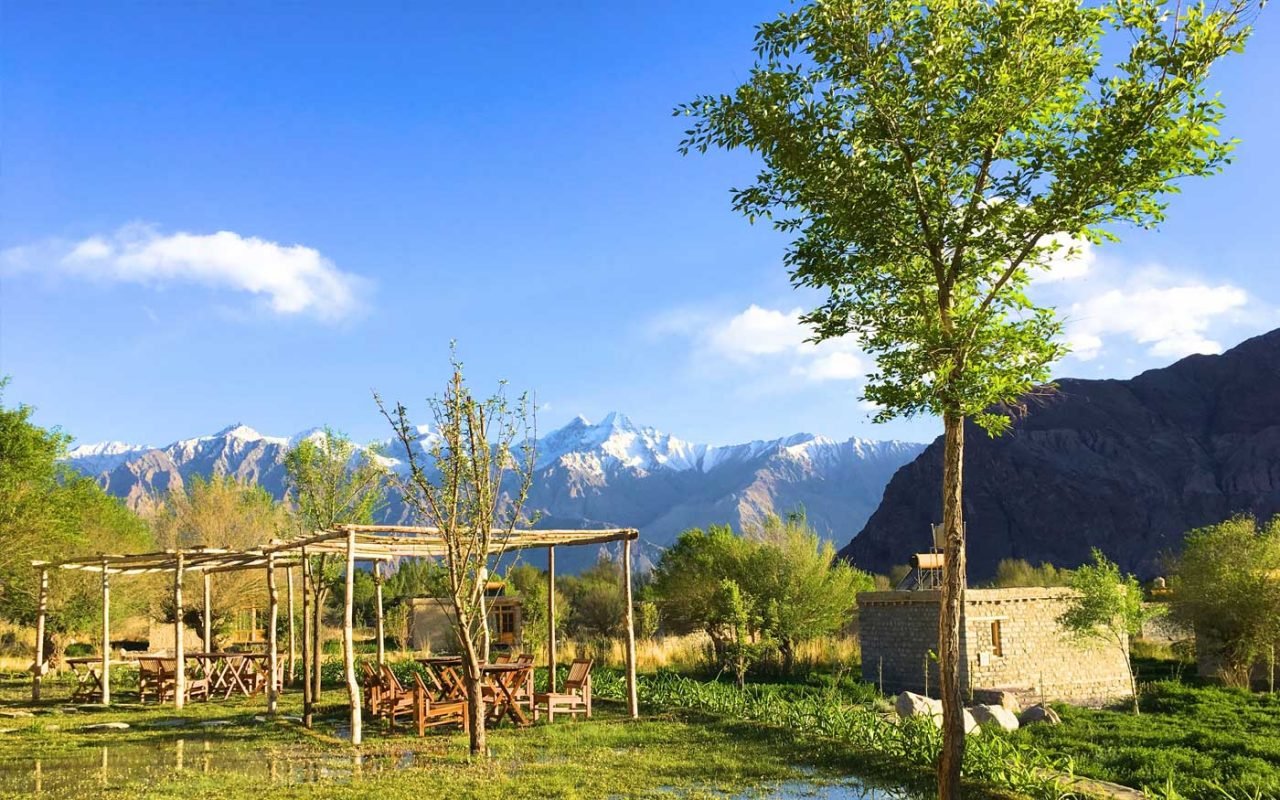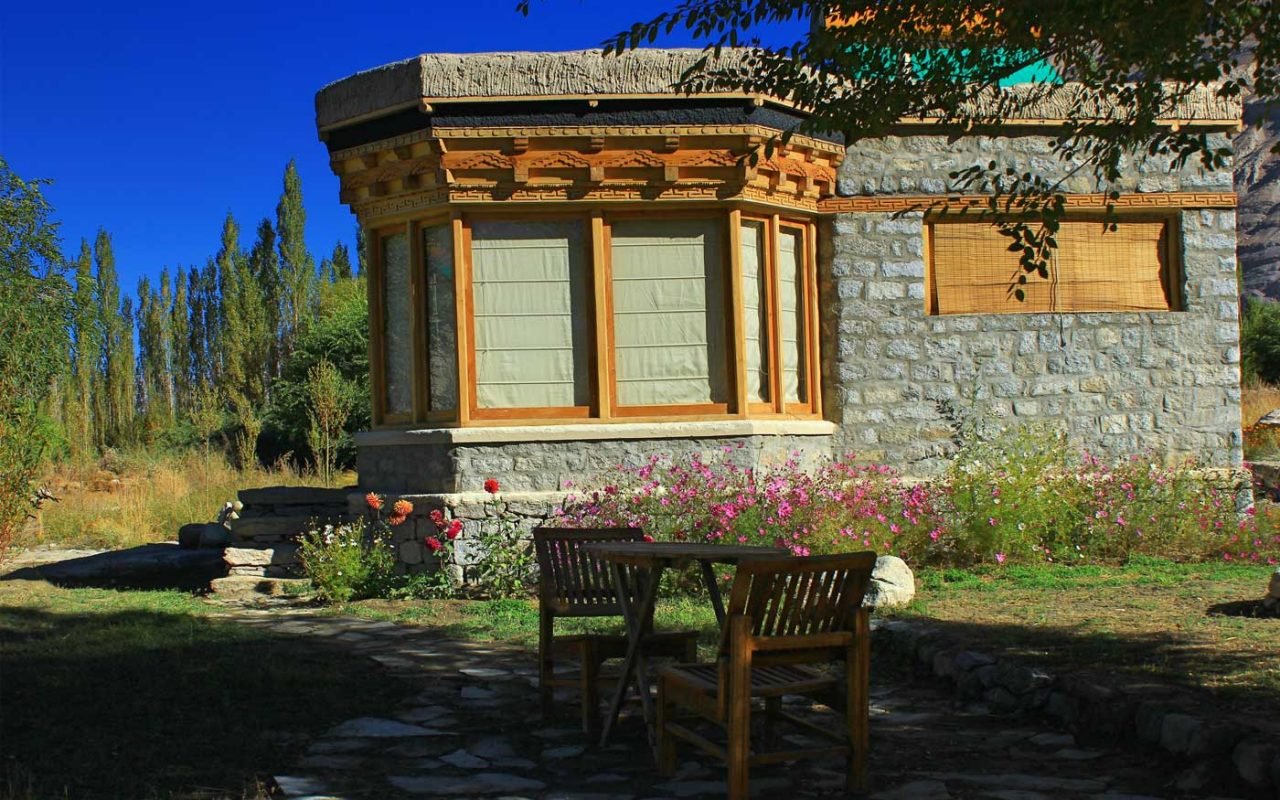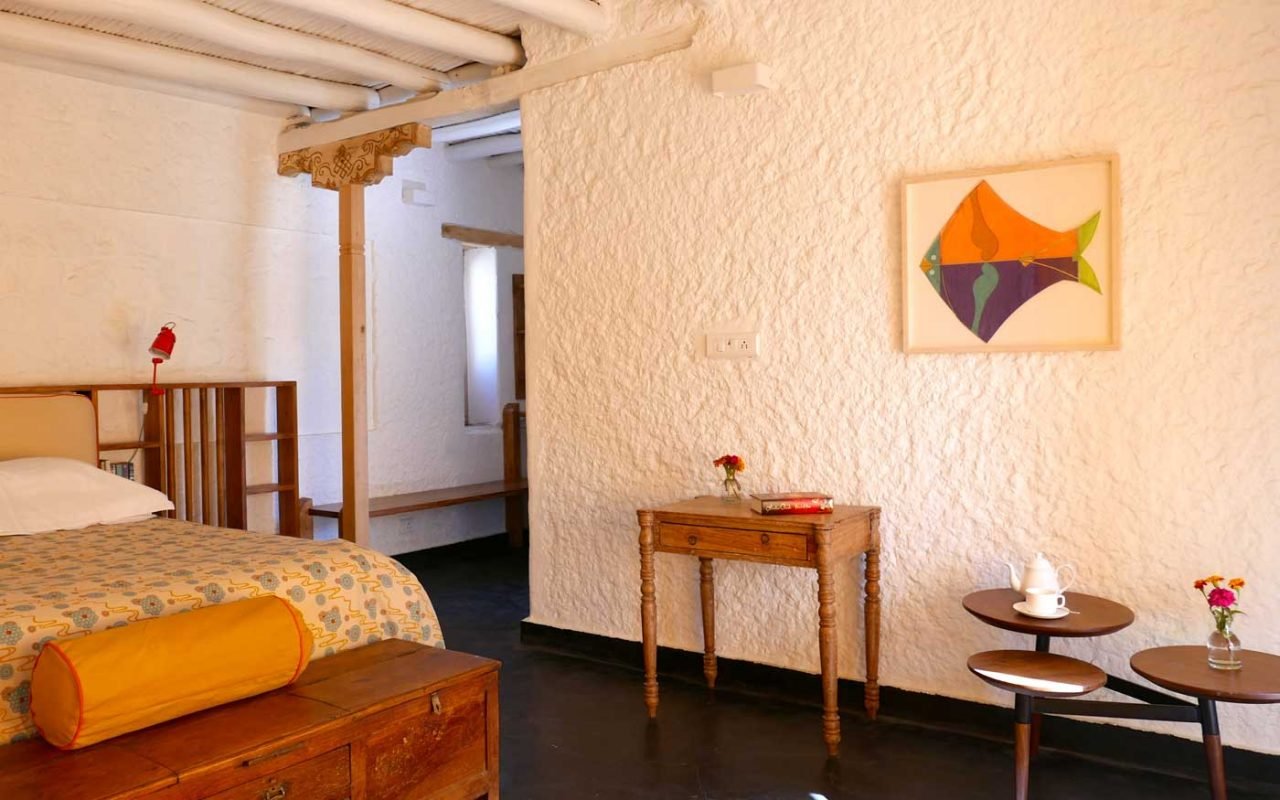 Property Details
Owned by the illustrious Kalon family of Nubra and built on the family's grazing lands on the banks of the Siachen, Lchang Nang aims to play a role in reducing Ladakh's carbon footprint. The retreat is fully solar powered and plastic containers are kept to a minimum. In the coming years, Lchang Nang plans to grow and source most of its operational needs locally.
Not just a stay, Lchang Nang is an experience. It is an insight into the culture and lifestyle of the Ladakhis. White distressed walls and black oxide floors offer a soothing contrast to the wooden ceiling. Contemporary furniture features quiet elegance, complemented by handpicked rugs and soft furnishings, inducing the weary traveller to relax and give in to restful contemplation. Beds, those all-important temples of healing, are made up with fine brushed cotton sheets, luxurious quilts and deep pillows. 
The staff treat you like long lost friends as they share their stories around the bonfire. The place seems even more magical while stargazing as the Milky Way is visible from here. 
If blissful serenity is what you are looking for, look no further than Lchang Nang.
17 beautifully curated cottages created in the local architectural style using mud, stone and poplar, are accessed through a footpath. Each cottage connects to a private garden and sit-out.
Run on solar power
Amazing views
Premium upholstery
Beautiful rustic rooms
Warm staff
Bonfire available
Delicious food
"I visited Lchangnang in September with friends. We took warila route and reached the porperty at around 7pm tired. We were welcomed with warm hospitality and smiling faces. The managers explained every thing very nicely and the chef took exta care at dinner time with amazing presentation. They also planned our itinerary and we drove to Siachen side of the valley( it was worth it with the hot springs, lake and water fall). They also do village walk and stargazing at night before dinner but then we were tired and spent some time at the bon fire cum bar listening to some live music. You must visit this property to complete the ladakh experience. Kudos to the team."