Our guests, Nikhil and Nidhi embarked upon a road trip to Leh Ladakh with us. Nikhil was kind enough to log his experiences into a travel diary. Read on to know about their epic road trip.
We travelled as a couple & completed a self drive trip from Delhi-Jammu-Srinagar-Kargil-Leh-Nubra Valley-Pangong-Tso Moriri-Sarchu-Manali-Chandigarh-Delhi. Itinerary was meticulously designed to be a mix of adventure and comfort. Hotel choices were best. Support was available at all points in case of emergency.Vehicle provided was top notch. Thanks to Mr. Sunil Kapoor for personally putting in efforts to maintain such high standards. Looking forward to many more such trips from unwind outdoors.
About
This blog is about a trip we did in July 2015 to the most sought-after road trip to  LEH-LADAKH. Cut out from the rest of the world, it was a combination of adventure and bliss surrounded by ice-capped mountains, beautiful landscapes, best roads, worst roads, sunny weather to rain to snow fall-all witnessed in a single day, meeting wonderful people, hours of endless driving and above all the charming Himalayan experience..
Conception
Me and my better half are an adventure-loving couple and we are in constant lookout for things that get our adrenaline rushing. Last year was about bungee jumping at Nepal's Bhote Koshi river which was an experience to cherish forever. We were on the lookout for possible destinations to quench our thirst when the idea of Leh-Ladakh struck Nidhi. A couple of my friends had done a bike trip to Ladakh in 2013 and their reviews were extremely encouraging. We approached Unwind Outdoors to get the primary outline of the travel plan fixed. We preferred an SUV over a bike as I am not a Royal Enfield worshiper and Nidhi preferred the comforts of a well-built SUV over the back-breaking pillion seat of a RE over those godforsaken roads. The original plan was to start from Srinagar after flying from Delhi. I however wanted to do Delhi – Delhi trip and add those extra Kms between Delhi – Srinagar to enjoy driving on good roads before we hit the challenging sections. If Nidhi would agree, i would end up taking my Alto all the way from Surat to Leh (which would be a very bad idea..!). After watching the flight tickets fluctuate for over a month and given that the timings were odd, we decided to do Delhi to Delhi and finalized on the Itinerary.
The Plan
We outlined a 12 day plan from Delhi as below:
Day 01: Delhi to Jammu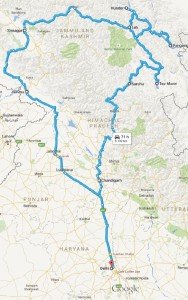 Day 02: Jammu to Srinagar
Day 03: Srinagar to Kargil
Day 04: Kargil to Leh
Day 05: Leh to Hunder (Nubra Valley)
Day 06: Hunder to Pangong Tso
Day 07: Pangong to Leh
Day 08: Leh to Tso Moriri
Day 09: Tso Moriri to Sarchu
Day 10: Sarchu to Manali
Day 11: Manali to Chandigarh
Day 12: Chandigarh to Delhi
We were to start from Surat and reach Delhi by train one day before the start. A day in advance was reserved to meet our trip organizer, get the vehicle, and relax before the 12 day, 3200 kms journey ahead. Similarly one day was also kept as buffer after the trip to compensate for any delays during the 12 day saga which was to follow.  We opted for a Nissan Terrano as it was fuel efficient and convenient for the two of us.
The Hiccups 
Somewhere in the month of April we came across a news article which stated that the NGT (National Green Tribunal) had banned the movement of diesel vehicles over Rohtang Pass. At that time details of the order wasn't clear and its effect on our plans remained uncertain. We remained apprehensive and closely watched for updates on DOW and Team Bhp. There were hues and cries about the order all over Himachal as it practically would put an end to the tourism over the Rohtang. In the subsequent days it was made clear that the ban was applicable for the vehicles approaching Rohtang Pass from Manali side and that a limited number of vehicles would be allowed with prior permit. It would not affect the movement of the vehicles from Leh Side. We were relieved to hear this.
The next problem surfaced much later around the end of June when we were just two weeks away from the trip start. A clash between Local taxi union and some outsiders driving ZoomCar ended up in heated exchanges and fist fight, consequence of which resulted in the local union passing a resolution banning all outside self drive vehicles and taxis from entering interior Leh region. There were isolated reports of the taxi union people harassing the outsiders by questioning and asking for documents. At the time the problem seemed to be focused on ZoomCar and self drive vehicles which are easily distinguished by their yellow numbers on a black background. To be on the safer side we changed our vehicle from Terrano to XUV 500 which was available with a private plate and was any day a bigger and powerful ride. In the mean time there were instances reported on online forums about confrontation with the taxi union  which kept us on our toes.
Things in our backpack
To endure the cold we carried one set of thermal, One sweater, One sweat shirt, A pair of sports shoe, a muffler, two pair of hand-gloves, a woolen skullcap & sunshades. Electronics consisted of my DSLR (Nikon D5100), A 18-55 kit lens and a prime lens F-50 mm, a pair of camera batteries, two 16 Gb memory cards,  Asus power bank of 10,000 mah capacity, our smartphones which would also double as GPS navigation, a mp3 player, a pen drive with music collection for the trip, two mobile chargers, aux cable and data cable. Also carried a tripod for the camera. The medical kit consisted of Asprin, Paracetamol, Diamox, Lomofen, Gelusil, Avomine & Citrizine. We also carried first aids like band aids & spray for sprain relief. Also, first aid kit along with an emergency oxygen cylinder was provided by Unwind Outdoor along with the car at Delhi. For emergency related to vehicle we were given a tow belt, shackles, compressor and tools for basic maintenance. We also carried the local Gujju namkeens from Surat , assorted dry-fruits and dry dates. For connectivity we carried an Idea Postpaid and a BSNL postpaid sim. (prepaid sim do not work in J&K)
Day 0  Surat to Delhi
With all the bags packed we were anxious about the next 15 days filled with lots of excitement and action. It was a Saturday and we had a train from Surat to Delhi at 7.45 pm which would take us to Delhi next day by 8.30 am. The Ola cab which Nidhi had booked a month in advance (:P) arrived on time. Train journey went well except that we did not like the food served on Mumbai Rajdhani that has deteriorated in taste and quality over the years. We spent the next day in Delhi to relax before we hit the roads. Our stay at Zostel Delhi was lovely. It's a creative place with friendly ambiance, laid back environment with great fellow travelers and helping staff. It's mostly flocked by foreign nationals who are familiar with the concept of shared co-ed accommodation which is a relatively new concept in India.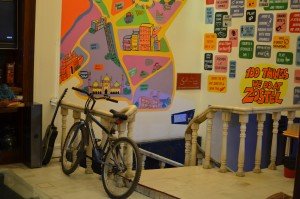 We rested for the day, had our lunch at Zostel, food here was average. Later in the evening we went to meet Mr. Sunil Kapoor, proprietor of Unwind Outdoors who had planned our trip. He wanted to brief us regarding the trip and handover the SUV. We were briefed about the driving tips and route maps and contact details of his person in LEH in case help was needed. After a good evening snack and some beverages at Zen restaurant,Connaught place, the SUV was handed over. We got back to Zostel, with some help from watchman managed to park the SUV in the narrow by-lanes of New Delhi and filled the car with two cartons of mineral water for the days to come. Several chocolates were also stacked in the car for later use. We did not intend to leave the eatables in the car since we had read about instances where rats would end up eating the food and damage the electrical components of the car.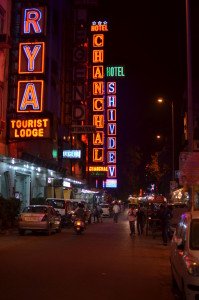 All set, we did some street photography and went hunting for a good place to have a decent dinner. Plan was to eat at Big Chill at Khan market (on Sunil's recommendation) , however we found the place to be crowded with over an hour of waiting time. Ended up at La vie where in we had an average tasting tomato bruschetta and a venus garden pizza which was delicious. While returning we again met Sunil and collected the documents of the car which was misplaced during the servicing of the vehicle. Had milkshake at the good old shake square and got back to Zostel. We had planned to start by 7am next day to our first stop Jammu which was about 575 kms away.
Day 01 Delhi to Jammu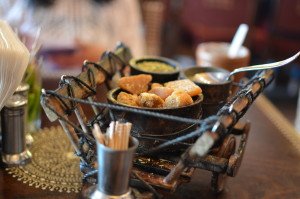 We got up at 6 am and were ready to leave by 7 am. Breakfast was to be had 30 kms away en-route Jammu at Murthal which is famous for its Parathas. Early morning the roads were mostly clear and we hit the highway after 30 minutes of driving. It was fun exploiting the high-end torque from the XUV's mHawk engine on the highway, but i would save that for the later part of the day as i was still getting accustomed to driving the vehicle. A few minutes later the weather got cloudy and by the time we reached Murthal, it started raining heavily. Wondering how the rest of the journey would go, we stopped at Gulshan Dhaba for breakfast. Ordered Gobi & Alu Parathas whose taste did not live up to the hype of the place. Tea was served in king size glasses. We called our parents to inform about our plans for the day and got going. It was still raining and the drive was fun. Roads were good and XUV felt confident on the highway. We cruised steadily between 100 – 120 kmph occasionally hitting 150 kmph. It was mostly event less expressway cruising. We were to pass through Sonipat, Panipat, Ambala, Ludhiana & Jalandhar during the day. Punjab felt green during the season with lots of agricultural crops along the roads. We could relate the terrain to our home state, Karnataka. We stopped for lunch at Haveli in Jalandhar which served good Punjabi food & Lassi.
Day 02 Jammu to Srinagar
Jammu to Srinagar was 280 kms as shown by google maps and we were wondering why we were asked to start latest by 5 am. Nevertheless, with the excitement of the journey ahead we woke up by 4.30 am and got going by 5.15 after packing our breakfast. First thing to do was to top up the fuel and we found a pump near by the hotel where we got the thing done. ( Cards were accepted ). Religiously following the google map we got going only to find about 10 kms later that the road shown by the map was closed down by J&K police and an alternative route was to be taken. Took a U-turn and hoped for the map to Re-route. After some time the map showed a way by-passing Udhampur which was different form the map given to us initially. After a while the route took us to narrow by-lanes of Jammu city and we soon sensed that we were going the wrong way. Pissed with google maps for goofing up twice in less than 30 minutes and wasting our time, we took a U-turn again, this time taking following the route via Udhampur. After a lot of turns in the already narrow by-lanes of Jammu we ended up at a narrow road where barely two wheeler could pass. Getting our XUV 500 through it was an impossibility.It was time to test my reversing skills. Nidhi thought we could not reverse and get out of the mess we had landed in. With my neck popping out of the window like an ostrich and guided by a friendly newspaper delivery guy whom we asked for directions, i managed to take out the vehicle with just a few inch of clearance. Thanking the guy for his help and directions we got going and mostly kept to main roads instead of trusting the google maps in navigation mode. Soon the roads got better with well-built concrete expressway and lots of curves. One thing here that kept the speed at check was presence of lots of monkeys on the roads. Good roads continued for another 30 kms after which there was a toll gate. After the gate, hilly roads followed with moderate traffic and soon we stopped by a hotel to have our breakfast which we had packed and carried from 17 miles. The time was 8 am and all we could manage to find at this place was tea and a decent washroom which was needed at the time. Continuing further the roads got steeper and the landscape got beautiful. Road condition was excellent but traffic was heavy, mostly due to large number of vehicles carrying Amarnath yatris, a strife that we had to endure for at least a couple of hours that would follow. Soon the weather got cloudy with clouds so low that we got the feeling that we were driving into them.
Visibility was average and there was rampant presence of military on those roads. As we drove further the road passed along massive lush green mountain passes and we were quickly picking up altitude. Since the beauty of this stretch is seldom spoken on online forums, it was an unexpected refreshment for us. Those massive mountains had a hypnotizing feeling reminding the fact that how insignificant humans are against the natural creations. Along the roads there were sections with landslides cutting through the roads which were constantly repaired by the BRO. We continued to drive for few more hours in the irritating traffic halting every 15-20 minutes due blocks caused by careless overtaking  and lane changing by J&K tourist taxis carrying Amarnath yatris.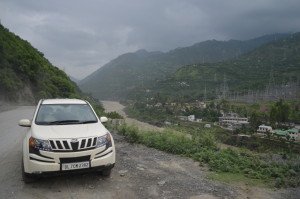 After a few hours which felt like a very long time we were at the entrance of the Jawahar tunnel. On the entrance side of the tunnel the weather was cloudy and it was slightly drizzling, however after crossing the 2.85 kms tunnel the weather on the other side was totally sunny. We could get a clear sight of the blue sky beyond the lush green Himalayan peaks. Snowy mountains were also visible in the distant horizon. At about 5 pm in the evening we took our first halt at a check in Kashmir Valley. After over 8 hrs of driving a short break was much deserved. This was also a place with some basic stalls and a washroom which was hard to find on the Jammu-Srinagar Highway. Vendors selling apples and other local fruits were after us to sell their stock. We got the tax paid at the check-post and continued towards Srinagar.After enduring the irritating traffic jams for another few hours we finally began to enter the city. We passed by the river Jehlum which seemed to flow in peace contrary to its reputation of bringing in floods & causing havoc. Our stop for the night was Wangnoo Houseboats along the Nagin Lake which we navigated using google maps and as always it ended up taking us into small, dark & isolated by-lanes in Srinagar. Hoping for the best we continued further till the road ended in the middle of a field with nowhere to go, time was 9pm. We called up the hotel contact asking for directions and to our pleasant surprise we had in fact landed at the right spot. The guy asked us to honk and told that he could hear us. He sent a person to guide us further and we drove along the field to arrive at the house boat. We found the boat to be luxurious with neatly laid beds and clean bathroom even equipped with a bath tub. Only the boat was not in deep waters, it was anchored along the bank. Temperature at Srinagar was a comfortable 22 deg and cold was not an issue. Our host Mr. Arshad was a nice guy who made us feel at home. He apologized for non-availability of his cook due to some personal emergency as a consequence of which we had to live with an average dinner. We met a Rajastani couple in the house boat who had stayed to explore Srinagar and around for a week. Shared our experiences briefly and hit the bed.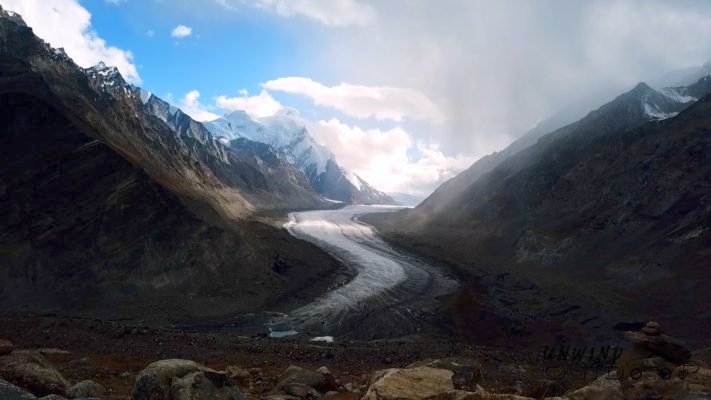 If you want to experience the joy of authentic off-roading amidst jaw-dropping landscapes, Zanskar Road [...]
Pristine white, wherever you look Soft snow. Hard Ice Freezing temperatures Crazy people If you're [...]
Day 03 Srinagar to Kargil
We woke up to the beautiful morning landscape across the Nagin lake visible from the houseboat balcony. Reflections in the water amplified the beauty of the mountains.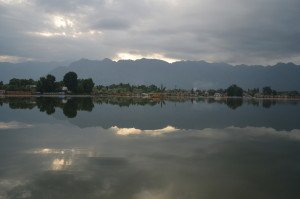 Enjoying the scenery we took some clicks of the beautiful sight. In the mean time a local vendor arrived on his boat to sell ear rings, we checked his collection & bought two pairs. Soon breakfast followed. We had omelets which were again average in taste but we ate well as we were famished the previous day, packed our bags and started from Srinagar at 8 am. After topping up the fuel we stared moving towards our next destination, Kargil. The already beautiful landscape got even better as we neared Sonamarg.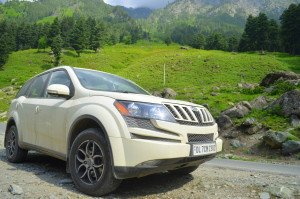 The mesmerizing site of clear blue sky as visible from these terrain is peculiar to entire Leh-Ladakh region and it appears so right from Kashmir valley. It is as if the real world is saturated using a photo editing software, only it's not!. The clouds further add to the beauty of the sky to form a picture perfect sight. Our route was along the Sindh river which was gushing with water from melting snow peaks. Our first sight of snow around Sonamarg was rather a deceptive encounter as it wasn't appearing bright white, it instead looked dull more like lime stone rock and we hence presumed it was indeed rock. Far across, on the mountain peaks we could see more of such white shade, temperature was a good 25 deg C with bright sunlight and hence i reasoned such large quantity of ice could not have existed in those conditions. 
Continuing further as the roads ascended the valley, we spotted frequent helicopter movements patrolling the amaranth base camp area. From the view above, we could appreciate the sheer size and spread of the camps. As we drove further steep ascent of the zoji la (Elevation 11,575 ft) began, this was our first pass of the trip. Roads got extremely steep with a challenging combination of gradient hairpin bends and extremely bad roads. At places it was difficult to judge how the road twisted ahead. There were sections with landslides along the sides of the road which required maneuvering the vehicle very close to the edge with deep valley below. I mostly drove in the first gear without the need to step on the accelerator pedal. 2nd gear was too fast in those conditions. I had to drive between 5-10 kmph. BRO persons were constantly on their job trying to maintain the roads damaged by the shifting landscape. The entire pass during our visit appeared isolated with very little traffic. Briefly we even suspected to have missed the main highway. Once we were on the Zojila top, we could spot the ice at arm's length along the road. What we thought as limestone rock was indeed ice. I got down and touched it to confirm the temperature and it was frozen cold sitting sturdy under the sun at 26 deg C. 
After crossing Zojila the road was average with scenic mountains on both sides. We spent some time to take beautiful shots along the way as we moved. Spotted a few locals on the way who mostly lived in tents. Rearing of livestock seemed to be their main occupation, children standing by the road begging for 'bakshish' was a frequent sight. It is disappointing to see that very little development has happened in this part of the country that can benefit the locals. Even though military presence is widespread it doesn't contribute much to improve the conditions of the locals. We halted at the zojila war memorial briefly, Met a group of people who were traveling from Srinagar on an itenary similar to ours, their driver was a friendly guy who showed us a good place to have lunch at Dras. Chapati in this part of the valley is good while rice is fat and thick, not the type we are used to. Moving ahead we stopped at the Kargil war Memorial. Visited the display area which documents the sequence of war with details and accounts of the brave soldiers who sacrificed their lives. Roles of various army divisions and the air force during the Kargil war is well documented here. This is a place where one feels a deep sense of patriotism. After paying our homage we drove from Dras to Kargil town.
Roads were narrow and curvy but extremely well maintained, these are the kind of roads where automobile enthusiasts would long to drive. While i was enjoying the drive, Nidhi was whining about the centrifugal forces generated on the curves negotiated at high speeds. After reaching Kargil, we had some hiccups finding our hotel zojilla residency as there were traffic restrictions not accounted in Google maps. Our hotel, Zojila residency was a nice place with neat & spacious rooms. Staff was helpful and courteous. We ordered tea coffee and mushrooms crispy which was delicious. Thoroughly enjoyed good food after almost 3 days. Dinner and breakfast next day at the hotel was toothsome.
Day 04 Kargil to Leh
After a good breakfast at zojila residency, we packed up and headed towards Leh. Road from kargil to Leh is mostly surrounded by barren grey colored mountains with stretches of bad roads. Minor landslides with stones and medium-sized boulders is a frequent sight. For a large section between Kargil and Leh the terrain looks unstable and is constantly settling. Our first stop was at small village named Mulbekh famous for its standing Buddha statue dating back to 1st century. A brief visit to the monastery was followed by a quick tea and some photography and we got going.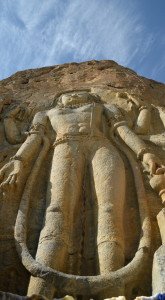 Road quality improved suddenly and yet again i was driving on roads that were an automobile enthusiasts dream. Smooth and curvy these roads demanded constant focus and rewarded with thrill and joy as one drove over them. In these stretch the BRO had put up boards reminding the folks about dangers of over speeding. Quite a lot of creativity was used to word the caution and reading them was a constant entertainment.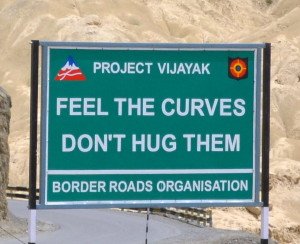 We negotiated the first pass Namika la. It was no where as difficult and steep as that of Zojila. Here the roads were smooth and driving was a pleasure, only there were over a hundred sharp bends looping around for over an hour of drive. After descending we found an army canteen where we had alu wada, cake and coffee. It was more than what we could ask for in those remote conditions. Surprisingly the place also had a working SBI atm. We continued further and after a few hours drive started ascending Futu la (Elev. 13,478 ft). Futu la was similar to Namika la only it had more curves with higher altitude.
We stopped at Futu La top to take some pics and descended towards the town of Lamayuru.
It was post lunch time and we were hungry. Our itinerary suggested a hotel named namra which initially thought would be beside the road to leah, but upon navigating found to be about 4 kms interior hidden amidst the mountains. It was a surprisingly well maintained place with a nicely laid garden and lots of foreigners who flocked the region for trekking the snow peaked mountains in the region. We had some noodles and cold drinks and started heading towards Leh. Moving further, the dry and barren mountains slowly changed to snow-capped peaks and the landscape gradually regained its beauty. As we neared Leh, we stopped at a straight stretch of road about 25 kms before Gurudwara pathar sahib. The beauty of the plane flat land was intriguing. Weather which was sunny all day since Kargil with harsh sun was now changing and we could see dark clouds surrounding the mountains on one side. Within a few minutes it turned windy with gusts so strong that our parked XUV was jolting with it. Heavy rains followed and temperature sharply dropped from 28 deg C to 12 deg C.
Never before had we experienced such rapid change in weather till that time and it made us wonder how difficult it could be to negotiate the passes had the weather been like this, at the same time experience of rains in this region brought joy and refreshed us. Moving further we stopped at gurudwara pathar sahib in Nimu. We did not get in as it required formalities like taking off the shoe, washing feet etc. We moved ahead expecting to stop at the magnetic hill. We crossed the magnetic hill without noticing it as the hoarding identifying the place was removed. We reached Leh around 4 pm and were upset to have missed it. We stopped by the hall of fame which was closed due to power outage at the moment. We checked the map again and found that magnetic hill was about 17 kms from Leh. We turned back and headed to magnetic hill. There was no clear identification of the area except a hill where the name was faintly written and small cafe adjacent to the road named magnetic cafe. Some of the nut heads were driving straight towards the mountain hoping the mountain would pull them up the slope but nothing of that sort was happening. We quickly returned to Leh and drove straight to our hotel Sangto Villa. Leh is at an altitude of 11,500 ft which falls under the category of extremely high altitude. Effect of thin air is clearly felt at Leh, prominently during the first day. Subsequently the body acclimatizes and once gets adjusted. We felt exhausted with even minor exertion like climbing a few steps led to panting. Sangto villa was a good place with spacious rooms, wooden floor to insulate from the cold, ambient heaters which was not in use as it was summer in Leh. Restaurant was in a separate block with a garden around it. We played with two friendly dogs in the hotel campus with thick fur typical of the animals in the region. We then met Mr. Skarma Norboo who was helping Sunil with his business and was based in Leh. In the next few days he was to be contacted in case of any help or emergency. Mr. Skarma was a professional mountaineer and an adventure lover, he briefed us about the conditions at Khardung la with some driving tips and informed  that the pass would open after 12 pm the next day due to some military restrictions. We were also briefed about the tips to handle the taxi union people in case there was a confrontation. For the next three days we would be traveling to interior parts of Leh-Ladakh where getting help in case of vehicle breakdown and other emergency was relatively difficult. Nevertheless the enthusiasm was high. We had a delicious dinner and called it a day.
Day 05 Leh to Nubra
With an eventful day ahead we woke up with excitement and some apprehension about the hours to follow. It was a late start today as the pass would only open at 12 pm, nevertheless we planned to reach the check post by 10 am to be ahead in the long que of vehicles that would wait to cross.  We got to the restaurant for breakfast and had egg omelet with bread and poha. The garden by the restaurant looked beautiful in the morning light. In the parking two triumph tiger 800 XCs caught my attention. These were the machines that could comfortably handle the abuse thrown by the rugged and unpredictable terrain of the Ladakh region. We got back to the room & filled the permit form in advance which was required to be submitted at the check post at Khardung La and Nubra. Today would be our first real taste of the Ladakh region beginning with the Khardung La which is claimed to be the world's highest motor able pass at 18,380 ft. The taxi union problem was another thing in our mind which made us tensed. After coming this far we did not want our plans to be ruined by a few locals and their self-imposed rules. We got going by 9 am and headed towards the Khardung La road. We were looking for fuel pumps on the way but spotted none. So we turned back to Leh city and got the tank topped up and headed towards the Khardung road hoping not to confront the taxi union people.
It was important to tank up today as we would cover roughly 600 kms in the next three days in rugged and uncertain terrain and there was no fuel pump anywhere in the interior region. XUV can easily cover about 800 kms with its 70 ltr tank topped up & that eliminated the need for fuel cans unlike bikers.
Bulk of the tourists who visit the Nubra and Pangong region cover these places as two separate trip from Leh, i.e they go to Nubra and return to Leh and then go to Pangong the next day, our itinerary on the other hand would take us on the most remote and untrodden section between Nubra and Pangong that had two road  options, (1) The Wari-La pass which was then just opened but its conditions unsure (2) The route along the Shyok river with lots of stream crossings that would intensify during the day with melting ice. As we drove ahead, thanks to google maps, it took us via some godforsaken bypass road and we ended up connecting to the Khardung La road much later probably after the union check post. Relieved we ascended towards the pass. Weather was perfect and the view along the road was magnificent.
We stopped at a couple of view points along the road for some quick clicks and finally reached the army check post  with a decent ques of vehicles lined up for the crossing. Time was 11 am and we had an hour. We chewed on the dry dates we got from Surat to kill time. Some time later we walked towards the check post to enquire about the situation  and the BRO officials told us that the timing would extend beyond 2 pm. The rest
riction was on account of planned road maintenance and to retrieve a fallen truck during a recent avalanche on the pass. As we waited, we met a group of Bangalorians who had traveled from Delhi on an itinerary quite similar to ours. During the wait the weather changed several times from sunny to foggy to rain and temperatures varying from 24 deg to 8 deg within minutes. Whenever the whether was briefly clear we could get an intimidating view of the pass top which appeared to be much above the clouds with roads cutting through it.
Finally at 3.30 pm it was time to make a move. After some initial traffic snarls, we got going. Ten vehicles were allowed at a time. The ascent to Khardung la was steep amidst cloudy and foggy weather. Road was a mix of mud and slush with edges appearing as if it's going to drop like an avalanche. It had a fragile and dangerous look amplified by the clouds hitting the mountains. BRO had constantly deployed road leveling equipment which kept clearing the slush. As we ascended further the sight of snow and ice was prominent. Soon everything turned white covered with snow and temperature dropped to 2 deg.
Here we witnessed the first snow fall of our life and it was spectacular. (Check Video Here)Vehicles approaching from the other side were covered with snow. Driving conditions were challenging especially when passing vehicles in the opposite direction with only few inches of clearances between the steep valley and the tires. Finally we got to the Khardung La Top and stopped for a quick look. Air here was thin and the cold was stinging. We got our pictures clicked with the BRO board identifying the K top in background and some pictures of the view around.
Landscape during descend was equally beautiful. We had to cross lot of streams of melting ice which was a challenge. One such stream ended up damaging the exhaust pipe which probably hit a stone. Thanks to it, the turbo whistle was even more clearly audible and the cabin smelt of diesel exhaust when windows were opened. Nidhi was frustrated with the diesel smell which induced nausea and she dulled down. We continued driving  heading toward Diksit and Hunder and slowly the snow dulled, yet the landscape was beautiful.
In Hunder (Nubra Valley) we arrived at our destination, Organic retreat resort at 9 pm after going into a military area thanks to G maps & turning back after asking for directions. Our first tented accommodation here was a lovely place with bonfire and lots of activities to do but we didn't have the energy left after the drive. Most of the guests that day arrived late due to odd pass timings at Khardung La. Mobile network here was very erratic and we could only manage to SMS our parents about our arrival in Nubra. We had our dinner and hit the bed.
Day 06 Nubra to Pangong Tso
Organic retreat was a nice place with beautiful gardens, neatly arranged tents, outdoor sitting points with sling chairs & hammocks. The place even had a badminton field & grew vegetables in their own organic farm. We took some nice shots here in the morning light, met a Gujarati group from Ahmadabad who were very lively and were fascinated to learn about our journey. Breakfast was delicious with good variety. We packed upama and poha for our trip as today's journey would be on isolated roads taken by few with no hotels or eateries on the way. Bsnl network worked well in the morning which allowed us to contact Mr. Skarma. He instructed to drive to Agam village and ask for status of the route ahead (Wari la or the Shyok route). I also enquired with some taxi people waiting outside the resort about the road conditions. They advised against going to Pangong Tso directly and instead asked to go via Leh. That would involve crossing the Khardung La again and covering another 200 kms after reaching Leh which was a tall task to do in one day and hence it was ruled out. As we started from Nubra, we could appreciate the sand dunes of Hunder that we failed to see in the dull evening light the previous day.
We drove to Agham village on a narrow road. The stretch was extremely isolated with no sighting of vehicles in opposite direction. There were a couple of stream crossings and the force of the water scared us. Fingers crossed we continued to further and arrived at Agham. It was a beautiful village along the Shyok river with very few houses. People here were extremely well nurtured and happy to see outsiders. We were told to take the Shyok route as few vehicles which took the Wari La the previous day could not cross the pass due to snow and landslides. We continued further along the road which at places was very narrow and fragile. For the next 20 kms with only snow-capped mountains around we could not see any sign of civilization in the dry and arid land.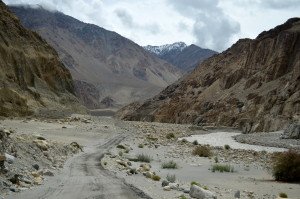 Snow melted water gushing down the mountain was a common sight although the Shyok river was calm in its appearance. We then spotted few BRO personnel with a truck and some equipment working to restore the sections of roads washed away by the streams. Their presence was reassuring and it boosted our confidence. So far we had crossed 2 – 3 streams and had driven along narrow roads eroded by the river on one side with steep ascent . Hoping the worst was over we continued further. We spotted the first and only vehicle in the opposite direction, a Scorpio who stopped to get a briefing of road conditions from us. They informed that further ahead there were 3-4 crossings that were challenging. After a few minutes of drive we got a hang of our first difficult stream. It was like a river with gushing water and no clue of the ground beneath. (Watch the video here of the crossing)  At such places the ground is soft with a mix of sand and stone that settles under the weight of the vehicle compromising on the much-needed ground clearance. Our XUV was a two-wheel drive version and stopping in the stream could have got us stuck in the middle of nowhere. It was important to maintain momentum at about 7-10 kmph in the first gear while exploiting the high-end torque of the engine. With very little traction available, the skidding was common and the inside of the vehicle felt scarier with jolts. After every crossing i had to stop the vehicle and inspect the underbelly for damage. At one such crossing the rubber clamp of the rear exhaust got loose and the silencer pipe started dangling. Fortunately i could fix it myself after a quick inspection and the thing lasted without trouble. This is after crossing few of the difficult streams. Notice the right side exhaust dangling which i could fix thankfully.
In another such crossing much later, the plastic flap provided below the engine started dangling and brushing with the road. I was cursing Mahindra for providing a plastic part so low on its flagship SUV meant to ply on difficult terrains. The part was not important for functioning of the vehicle but it dangling near to the ground was a nuisance. Much later when i reached good roads, vehicles in the opposite direction would stop me looking at the dangling flap to caution as if the engine had come off. After crossing every stream we prayed for it to be the last one. Nidhi was closely studying the road and its distance from the Shyok river using google maps as the moment the road and the river got near we had to encounter trouble. Finally the two diverged and we breathed a sigh of relief as the worst was over. The road conditions improved as we neared Shyok village.
 We continued driving till Tangste where Bsnl was working. Called up Skarma to inform about our safe arrival. From here it was easy with quite a few tourists visible around. After Tangste we took a wrong deviation and ended up going towards Siachen for about 20 kms after which an army patrol informed us that the road we were on would not lead to Pangong Tso. We turned back towards Tangste and also picked up an army jawan who was heading to Tangste. He shared his experience about staying in the region, army life and how they endure the winters when the temperatures drop below minus 35 deg C. After dropping him we headed towards Pangong. Road to Pangong was boring with lots of undulations due to pathways designed for streams to cross over the road. As the lake neared the marsh land bordered the road on both sides with frequent sightings of marmot, an animal belonging to the family of squirrels. A little further we had our first view of Pangong Tso. It's a soda lake at an altitude of 13,940 ft which is higher than Leh. In the cloudy weather the lake was dull without its reflections of the blue sky, though the dullness had its own charm.
We drove to the banks of the lake and took some clicks. It was 6 deg C with light drizzle and thin air. We headed further to our stay for the night, a tented accommodation named Pangong Sarai which was 20 kms drive further. Had veg momo on the way which was average. Road to the accommodation was unpaved mostly made of dirt and stones for a stretch over 8 kms and hence we had to drive slow. Tents were good with basic facilities. We headed to the local PCO to call up parents and inform about our arrival. In the evening the cold was stinging. Dining area was a large size common tent with a kerosene heater that provided some relief. We met a group of couples from Gurgaon who were very enthusiastic about travel and had covered a lot of places across India. After some drinks and dinner we returned to the tents. Hot water bags were provided in the night which provided some relief from the cold. Water too was painfully cold and brushing and washing required determination. It started drizzling in the night with brief period of moderate rain. As we slept we could hear the sound of the rain droplets on the tent roof.
Day 07 Pangong to Leh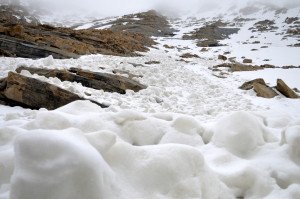 Sleep was intermittent frequently interrupted by cold, sound of leaking rain droplets & the thin air which made breathing difficult. We woke up at 5.30 am and requested for coffee and a bucket of hot water. While still in thermals we brushed and got fresh & packed up our stuff. Hot coffee was highly appreciated in the shivering cold. Had gobi parathas and omelets for breakfast and started from Pangong Tso at 7 am. We would cross the Chang La today, the second highest mountain pass in the region. Rains are rare in this part of the region and an even an over night drizzle can cause landslide and other such issues. Wondering what would await us at Chang la we drove towards Leh. We crossed the long Pangong Tso Road again stopping at one place to photograph a friendly marmot that didn't runaway when i got quite close. After about two hours of drive the ascent to Chang La began. Ice and snow slowly started appearing everywhere and the terrain changed from barren grey to white. Blankets of fresh white snow was seen around possibly due to snowfall during previous night.
Mostly the drive was slow and steady without any extreme challenges unlike Kardung La. There were sections of road with deep valley on one side and fragile sheet of ice ready to slide down taking whatever comes its way on the other. We spotted three army trucks fallen into the valley probably over 1000 ft deep. What was left of those trucks was merely chunks of metal scattered around. With high altitude the vehicle looses its power slightly due to thin air, nevertheless for XUV 500 and just the two of us in it, it did not make any difference practically. We arrived at the Chang la top and stopped by a refreshment center. They served tasty Thukpa, a local food made with flat noodles, mushroom, peas and spices. Nidhi was an instant fan of it. Coffee followed.
We descended while enjoying the beauty of the peaks covered with fresh white snow. It was a long drive on thin curvy roads till we finally connected to the Leh-Manali highway which is beautiful and fun to drive as one nears Leh. We had planned to stop by the Mahindra service center in Leh to get our vehicle inspected after the rough ride, but we found the place to be closed as it was a Sunday. I drove to the hotel, dropped Nidhi and went in search of a mechanic to fix the plastic flap which had come loose on Shyok Route. After searching around for some time finally located a fellow who fixed the problem by removing the flap altogether. He also inspected the exhaust system and fixed a few more clamps that had come loose. I got back to the hotel and had a hot shower which was much deserved after three days in cold tented accommodation. We went to the hotel reception where Wi-fi was available and shared some pictures and videos with friends and family. Looked through Zomato for good restaurants in Leh and ended up at Gesmo Restaurant in Leh. Ordered a veg pizza made with yak cheese , some chicken momos  and chocolate milkshake that completed a thoroughly satisfying meal. We then headed to Leh market for some shopping. Bought a Pasmina Shawl for Nidhi's mom and some artistic stuffs for my parents. After the shopping we visited Shanti Stupa which is a bhuddist place of attraction in Leh. 
It is situated at an elevation overlooking the Leh city which provides a beautiful view. Lot of photography enthusiasts flock this place. After spending some time, we got back to the hotel reception and settled under the Wi fi to narrate our tales and know whats going on around. In the news we learnt that entire ladakh region was due to experience heavy rainfall and parts of Jammu Srinagar highway was badly affected due to land slides and traffic jams. Satellite image of the region during that time showed massive quantity of cloud accumulation over J&K and Himachal. In some time it started drizzling and it got cold. We had light dinner in candle light as there was no power and went to sleep.
Day 08  Leh to Tso Moriri
It rained all night in Leh and the locals told us such rains were extremely rare even in the short rainy season in Leh. In the lobby tourists were discussing about flight cancellations, change of travel plans and continuously checking for the updates. The hotel wifi wasn't working in the morning. We had our breakfast, packed up and left. Tanked up the vehicle and re-set the trip meter. We had covered 660 kms in the last three days in the interior parts of Leh. We headed along the Leh manali highway for about 100 kms and then took a deviation at Upshi towards Tso Moriri. Road condition was a mixed bag. Some sections were smooth while some were bad with lots of pot holes. Landscape was beautiful here all along.  
Weather which was cloudy in Leh turned Sunny thankfully as we drove. Roads would take us up to a village named Puga after which we had to take a dirt track. We enjoyed the ride along the dirt road. Some distance before Tso Moriri we spotted another lake named Kaygar Tso which appeared beautiful reflecting the blue sky.
Stopped to take some clicks here and continued further. Then we had our first sight of Tso Moriri. At 14,836 ft Tso Moriri is the largest of the high altitude lake entirely in India. Unlike Pangong Tso which appeared dull in cloudy weather, Tso Moriri stood out bright as if a large region of ground was made of a mirror. Details in the reflection appeared so perfect that one could not differentiate the boundary between the lake and the land.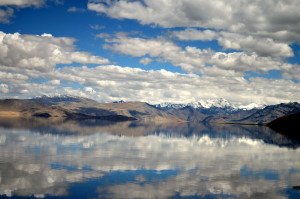 This was a best sight of the entire trip. Flocks of ducks were paddling along the lake causing tiny ripples in the still water. We headed to our tented accommodation for the day which was few kms further along the same dirt road. After making an entry in army check post finally reached the tented accommodation. It was close to the lake at walk-able distance. We settled in and freshened up. Had a bowl of noodles and some coffee. We again met another group from Bangalore who had traveled from Chandigarh. They were interesting and very enthusiastic and had completely planned their trip on their own.  In the evening we headed to the Korzok village which was 5 minutes walk from the tents. Called up parents from the local PCO and went to the lake. Spent some time by the banks clicking pictures and enjoying the serene atmosphere. It was getting cold as the sun settled and we hence returned to the tents. We had our dinner early. Nidhi went to sleep soon and I took out my camera to try to capture the night sky.It was extremely windy which amplified the cold. After several layer of woolen clothes, muffler and caps I stepped outside the tent and settled on a rock near by trying to fix the camera on tripod and get a good view of the sky. After about 30 minutes of struggle I managed to capture two average shots. I soon returned to the tents and went to sleep with the hot water bag in blanket providing relief from the cold. The tent cloth was constantly fluttering in the winds which continued till about 1 am after which the winds subsided.
Day 09 Tso Moriri to Sarchu
We couldn't sleep well due to cold and thin air at high altitude. Mornings felt like we hadn't rested at all, nevertheless we had to get going to our next destination Sarchu, which is a cold desert roughly between Leh and Manali. After playing with a furry dog with which was around, we had our breakfast and started from Tso Moriri. For the next 115 kms we had to take the dirt road till it connected to Leh Manali highway near Meroo. Drive on the dirt road was slow and irritating. Landscape although barren and dry was beautiful with mountains on either side.
As we were driving along a straight stretch of the dirt track. we were dumbstruck by the sight of 3 wild horses crossing our path some 100 mts ahead on the road. By the time we could react and take some clicks they were gone. It felt like the scene in the movies and for a second we suspected if it was a hallucination. Driving further we passed by Tso Kar another lake in the region whose banks were laced with ice. We finally connected to Leh Manali highway which was broad and well paved. Driving on it felt blissful after being on dirt road for so long. In some time we crossed the more plains a high altitude plain surrounded by beautiful mountains on both sides for about 40 kms.
After the more planes the road condition worsened. It converted to a single lane road with lots of curves, steep ascents and descents. We crossed two passes, first the Lachalung La at 16,616 ft after which we stopped for lunch at a shack which served maggie and then the Lakeela at 15547 ft. Both the passes were relatively easy to cross but with lots of curves, ascents and decents and the constant traffic of trucks made the situation worse. Nidhi was exhausted and the never-ending curves induced motion sickness in her. We still had to endure the crazy Gata loops with 21 loops in a distance less than 6.5 kms
The landscape changed to brown sculpted mountains with beautiful shapes formed naturally at places.
We spotted mountain goats running on nearly vertical cliffs, their skin impeccably camouflaged with the mountain texture. 
While I enjoyed the drive thoroughly, Nidhi was low on energy due to lack of sleep and motion sickness. We drove through the gata loops and endured the hairpin bends it threw at us . As we neared Sarchu, another stream had to be crossed which appeared violent. I couldn't believe we were on the national highway looking at the conditions. After that the road again improved and we reached our destination at Sarchu named Gold drop Camps and Resorts, which was again a tented accommodation. Both of us felt weak and exhausted here possibly because the last three days were spent at high altitude. We were worried if we would recover as we had to drive to Manali next day covering two notorious passes, Barlachla and the Rohtang Pass. We mostly rested and slept all the time here as there was nothing around the place except mountains and the highway. Rahul Ram, bass guitarist of the band Indian Ocean was also here in the same accommodation. We did not identify him at that time, but were stunned by his energy level. We had dinner and hit the bed hoping that we would feel fresh and energetic for the drive ahead.
Day 10 Sarchu to Manali
We felt better in the morning after night's sleep. We requested for a bucket of hot water as running water was too cold for use. Meanwhile i took some photos of the camp in the morning light.
After a light breakfast we started from sarchu along the Leh Manali highway. As dramatic as it can get, Leh-Manali highway at places manifests itself into wonderful roads with mind-boggling scenery and then there are sections of the road that get so challenging that crossing even by walk seems impossible. Less than 2 kms from our camp we had to cross a stream where bikes were struggling to maintain balance. After covering about 30 kms, the ascent to Barlachla began.Roads although heavily ridden with pot holes were largely ok. View was beautiful with a combination of grey mountains and snow over it.
Barlach la is notoriously difficult to cross in winters and under melting snow conditions, however we did not face any trouble over the pass. After the descent the road was well paved and we merrily drove ahead passing by Suraj Tal and Deepak Tal, two small yet beautiful lakes along the road till we encountered a traffic jam on the main highway.
We waited patiently in a long line of vehicles. We were told that a section of the highway got washed away by a stream of melting ice. After about 2.5 hrs of wait finally things started moving. As we neared the troubled spot we were horrified to see the force of gushing water. The stream was so violent that it could have washed away a person walking through it. Ground underneath it wasn't visible and we laid our faith on BRO and started driving towards it. A truck ahead of us crossed with wild jolts after which we followed. (Check video) Underbelly of the vehicle brushed gently at one or two places, from the sound i could tell it was not something serious. Inspected the underbelly after crossing & found everything OK. There was a long jam on the other side with a little clearance for vehicle to cross. The truck ahead of me had to steer to the extreme right to pass. At places i could see that out of the two rear tires on the left side, one would be completely out of the road hanging on a valley at least 600 ft deep. Knowing that the truck could pass, I had to just follow. We drove to Keylong and stopped for lunch at a Himachal Tourism hotel. After a good lunch we topped up the fuel and continued.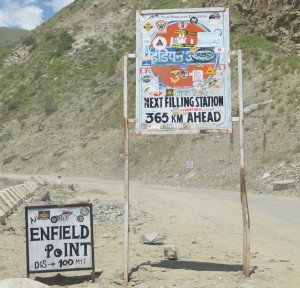 We had one last pass to cover, the Rohtang Pass. As we drove towards the Rohtang, Landscape regained its greenery and it got similar to Sonamarg.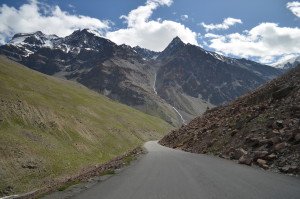 The sky was clear and the natural colors looked magnificent. Clouds laced the mountain top in the distant horizon. 
We passed through beautiful villages overlooking the valley with lush green mountains. After some hours of drive we realized that the high mountain in the horizon with clouds on its top was the Rohtang pass. A combination of never-ending curves, steep ascends and bad roads finally took us to the Rohtang top. There were scenic spots on the way where we stopped to appreciate the beauty of the land. Rohtang top was extremely foggy due to clouds and visibility was poor.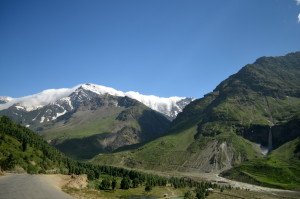 We stopped at the top but could not take photos. We met a couple who requested us to drop to manali and we obliged. Route down the Rohtang was easy with good roads. While enjoyed the ride, everyone else was feeling sick with the frequent bends and curves. Finally we dropped the couple and reached Solang Valley where we had to stay overnight in hotel iceland with a beautiful view of the hills. Since we left Leh, this was the first halt at a proper hotel in the heart of civilization. Manali is at a normal altitude and hence we did not have to bother about the thin air and breathing issues. After a good dinner we hit the bed.
Day 11 Manali to Chandigarh
The hill view from the hotel balcony in the morning was beautiful.
Drive from Manali to Chandigarh was easy compared to what we had endured in the past ten days. We started easy at 9 am and continued along the highway. Manali is known for its excellent quality weaved products which are made and sold locally at reasonable rates. We stopped by one such store and bought a pair of sweaters and a wall-hanging artistic frame made with woolen embroidery. As we continued further along the hilly roads, traffic was initially moderate, but intensified as we neared bhilaspur due to constant truck movement from ACC cement factory. I loved the response of the XUV engine on the hills with its 330 Nm torque pulling the vehicle effortlessly even on steep gradients. Overtaking required only slight tap on the accelerator as the speed was favorable to maintain the engine in the turbo range. All throughout the day the terrain mostly resembled the western ghats the way it looks back in our home town of Karwar, only the greenery was more pronounced. After a long monotonous drive we took a de-tour from the main highway as instructed by google maps. It appeared like a shortcut to Punjab but the road was bad due to ongoing construction activity. Some stretches of road were covered with a mix of water and mud that formed an extremely slippery slurry about 4-6 inches deep. Steering over it was challenging, nevertheless it had to be crossed. Finally we entered Punjab before Roopnagar and were greeted by an expressway.Soon we entered Chandigarh and were awed by its infrastructure and planning. After staying in Gujarat for the last few years we believed cities like Gandhinagar were the best examples of planned cities in India, but Chandigarh was many levels ahead on this front. Google map of the city showed parallel roads systematically arranged in grids with large circles at every junction. We were booked at hotel turquoise which was comfortable and served tasty food with good variety. Particularly loved the Italian food here.
Day 12 Chandigarh to Delhi
We covered the 250 kms stretch between Chandigarh to Delhi in 3 hrs which was mostly expressway drive. As we neared Delhi I had to also pay for an over speeding ticket as i was doing 120-130 kmph on the expressway and the limit was 90 kmph which I had to oblige during the end of the journey. We had planned to reach Delhi during the non peak hrs by 12 pm which helped to an extent but we had to get to Zostel which was close to New Delhi station and traffic congestion in the area was a nightmare. Last five kms took almost an hour driving in by lanes alongside hand carts & cycle rickshaw. After finding a place to park the car we unloaded our stuff as the car was to be returned the same day.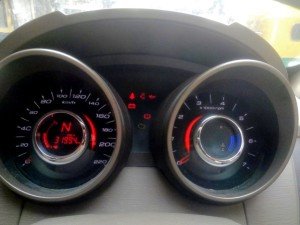 It was time for lunch and we headed to Chandani Chowk area to the famous roadside eatery named Kake Di Hatti highly rated on Zomato. As we got to Chandni chowk , it started raining heavily with most of the shelters already were crowded by people trying to avoid getting wet. We headed to the place in the rain and found it to be a small stall with a transparent curtain hanging on the front which acted as a protection from rain and an air curtain when AC was switched on. We ordered for gobi and muli paratha along with paneer butter masala.
In some time the food arrived and the parathas sized as big as a car tire shocked us. It was clear that Nidhi couldn't finish one and it was my responsibility to ensure that no food was wasted. It tasted delicious and we thoroughly enjoyed the meal. There was no leftovers. A round of lassi concluded a thoroughly satisfying meal. We returned to Zostel and handed over the keys to a driver from Unwind who had come to pickup the vehicle. In the night we planned to have a celebration after a safe and successful trip. Had a nice time at Connaught place with dinner & cocktails.
And Finally the Return
It was time to get back to Surat. Our train was at 4.30 pm. We checked out from Zostel by 10 am and transferred our luggage to the cloak room. Spent another two hours in the lobby reading novels and papers. Zostel has one of the best environments to spend time and scores very high on this front. Meanwhile Nidhi did her research on the best restaurant to dine in. We left for Connaught place at 12 pm to have our lunch at Chew which was highly rated on Zomato again. The restaurant was to open at 12.30 and hence we went around and spotted a store of happilyunmarried.com. Bought some stuffs here for my bachelor friends and a milestone shaped paperweight with Ladakh and Khardung La written over it. By the time we were done, Chew was open and we stepped in. Loved the ambiance of the place, small but neat. We settled down in a twin table with chairs suspended from the roof which gave a laid-back feel. For starters we had crispy tossed vegetables with sweet chili and lime and a crispy chicken Thai style was palatable. I had two rounds of capriosca while Nidhi accompanied with a cocktail. Main course was pan-fried noodles which filled us to the brim. Returned back to Zostel, spent some time & and picked up our luggage to leave for New Delhi station which was a few hundred meters from Zostel. Since it was the starting point of Mumbai Rajdhani, there was ample time after the train arrived. Except the food served on rajdhani, the journey to Surat was comfortable and we reached by 5.15 am. With good memories and a refreshed mind we were back to business.
If you enjoyed this post kindly like or comment. Thanks for your time 🙂
Nidhi & Nikhil