A quiet moment in Spiti Valley
For a long time now, I have visited the mountains as a means to disconnect and disengage from a life that is cramped by mundane trivialities. It was only amidst magnificent peaks and gurgling streams that I felt soothed enough to unlearn all that life in the city had taught me. Having spent all my life in a place where one's line of vision is obstructed by hundreds of people and rows of buildings, I only saw things clearly in the vastness of valleys. It is why I keep returning to these mountains, to get a sense of self. But Spiti is more than just that. In Spiti, I realized that it is not just breathtaking landscapes or the relaxing sounds of nature that draw me to this land. In Spiti, I realized that I found a sense of kinship, a heady sense of humility.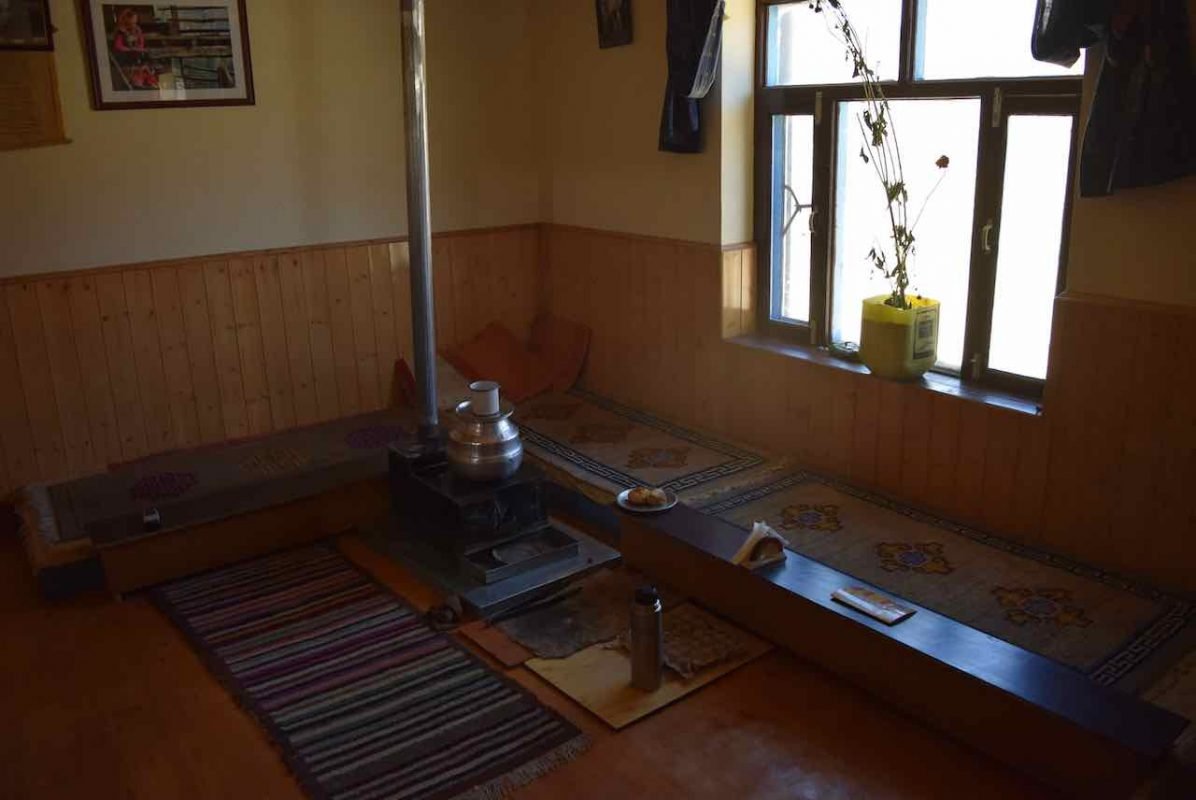 Our homestay in Mudh. All homes in the valley have a typical layout with the kitchen and family room being the epicenter of all activities.
This humility builds like a slow but steady rhythm each time I have any contact with the locals. My local contact in the valley, Lara ji, the owner of Langza homestay, is exuberant and chatty. I find myself having long conversations with him, and he is always willing to not only assist but also join me in my pursuits to experience the region. While at Nako, the owner of our camp, Mr. Negi, had told us about the peculiar elopement tradition of Spiti. Since then, I was itching to attend a local wedding. I was in luck as Lara ji knew of a wedding about to take place in Mudh in Pin Valley.
We take off for Mudh by mid-morning in joyous spirits. Lara ji keeps me entertained and engaged, with his tales of the valley. A woman from Germany, also staying at his homestay has decided to join us as well. It is a priceless experience for her to witness an authentic display of local culture.
On the way, we approach a beautiful vista and I make Lara ji pull over. There is a small settlement amidst the stark landscape. This little village of Todnam appears to be under the aegis of God, two massive snow clad peaks giving it protection and shelter. I decide that I must come back to visit it.
As we disembark at Mudh, the typical village life unfolds before our eyes. There are kids playing on the road, a young girl washing clothes on the road side, and the elderly sitting in a group and enjoying a chat together in the sunny afternoon.
As Lara ji escorts me to the wedding home, I am jolted by the sight of all the bright colours. For a region that mostly dresses in practical clothes and earthy colours, Spiti really comes alive during its weddings. There is a palpable gaiety that is missing from their everyday arduous lives. We are welcomed whole-heartedly into the festivities, as is the rest of the valley. For the people of Spiti, it seems like the entire human race is their family. And this is what I mean by the sense of immediate kinship that I discovered on my travels through this region. There is no divide here, a refreshing change from the burdensome hierarchies of our stratified societies. Food and merry-making are served in equal parts all day through the wedding and it is clear that for the limited income that farming and tourism bestows on these people, their hearts remain big and benevolent.
Although the wedding is in the evening, the guests pour in at any time during the day and as per tradition, they are first invited into the family room. We too are ushered and we sigh in relief as we thaw our fingers over the hot tea we're served. As the cold dissipates, I find myself appreciating the simple and traditional layout of the house, with a modern bric-a-brac here and there. The owner of the house and the father of the bride senses that I am a curious fellow and starts relaying information about himself and the people of Spiti. He tells me that they spend roughly four months of summer harvesting peas and barley. The rest of the year is spent preparing for and braving the winter. Once again, I am struck by the matter of fact way in which the toughest circumstances are spoken about.
As we head out again, I use this wonderful opportunity to interact with the locals at length, which is how I discover that the bride and groom have been living together for the past few months. Sensing my surprise, some village women nudge each other and have a good laugh at my expense. One of the kinder onlookers explains to me that in Spiti, festivities are reserved for the autumn. The bride goes to live with the groom and his family and the actual wedding takes place later, at a more convenient time. Hence, I receive another lesson in humility. We think we're much more progressive in our urban cities, but the locals here had managed to surprise me with their unassuming ways and practicalities.
I think back to a similar incident just a few days ago, on our way from Sangla to Chitkul, over snowy roads. To our utter surprise, we saw a tractor approaching from the opposite side, with only 3 wheels. We watched in shock as the driver maneuvered the tractor expertly with one of the front wheels missing. Hardship is a way of life here, but one that is taken into stride almost cheerfully. There are more solutions than complaints, more actions than reactions. The driver waves at us and stops for a quick chat and moves on as if it is an incident as commonplace as any other.
Having been cut off from the rest of the country for many years, the villages of Spiti have always been self-sufficient. They have found ways to store grains and potatoes as well as dried leafy vegetables. The ubiquitous yaks are the major source of most needs, from meat to wool to milk and cheese. Organic has a completely different meaning in these parts of the country. It is probably not even a word that exists in their dictionary, with all produce reaching them directly from the source itself.
It is late afternoon and I still have a couple of hours before the Baarat arrives in the evening. I decide to explore the surroundings and discover that a new dirt track has come up to Bhabha Pass. No one knows what the condition of the road is but since I possess a 4×4, I am not perturbed. I take off into the unknown hoping to reach the top of Bhabha Pass and be humbled by the magnificence of Himalayas.
On the way, I see not a soul except villagers collecting Yak dung and bringing it back to the village. . It is just me and the grand Himalayas with its deep gorges. Shortly, the road disappears and I reach a dead end and I have no other choice but to return. However, this short impromptu off-roading experience has been a fulfilling one.
As the sun sets, I see a convoy of cars approaching the village. As I rightly guessed, the baarat finally arrives. There are flashes of turquoise stones, brightly coloured garments and wide grins. The procession moves to an open ground where Ara flows freely and people are swept up in the merriment. There is dancing and traditional music, and as I witness it, I am seized by an unadulterated joy.
After a hearty conversation and an enriching experience, we depart from Mudh. The drive back is more pensive than the one in the morning. There is a contentment that we all probably feel, an overwhelming feeling that threatens to spill out unless processed. As I sit on the front seat, gazing at the stark whiteness outside, the silence that has covered Spiti a few months before time, the laughter and merriment from the day revisits my mind. It has been a while since I attended a wedding that did not involve an obligation of sorts, or where everything was not larger than life. This is life, I think. Beyond the shrill noise of ostentation, on the shores of a quiet place that comes alive in the company of kindred spirits. Spiti has taught me that there is more to travelling than capturing moments. My soul has been fishing for experiences and genuine laughter, and a few days in Spiti have taught me that maybe, it is within reach.
Spiti is often known as a world within a world. This is truest in winter, [...]
If you feel most at home in the remote & rugged region of the Himalayas, [...]
10 Comments
Nestled within Pin Valley, between folds of the Himalayas and vast expanses of nothingness, lies [...]