If you feel most at home in the remote & rugged region of the Himalayas, then the Spiti Road Trip may be calling your name. With very little development and tougher road conditions than Ladakh, a road trip to Spiti Valley is not for the faint of heart. Yet, the troubles are more than made up for by the experience of being in the wild, enjoying nature the way it was meant to be enjoyed.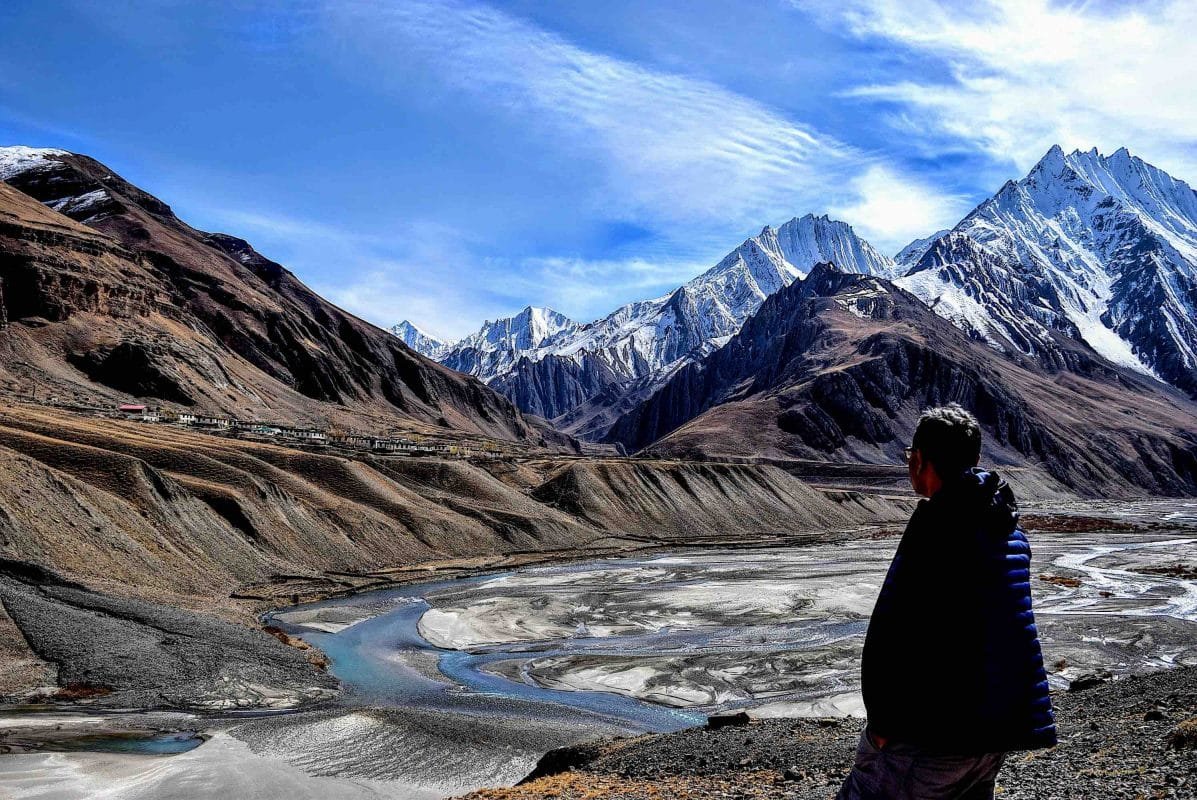 Tailing & Todnam – Spiti Road Trip
The Heart of Spiti is the people of Spiti living in these remote villages
The name 'Spiti' means middle land and it is situated between Tibet and India. There are small villages interspersed along the gorgeous Spiti river and also on the many roads that branch out from the main highway. These villages are sparsely populated and the people here still live in a traditional way, untouched by modern lifestyle.
It is this very simplicity of the region that will charm you. Take in a lung full of fresh air, visit the ancient monasteries or simply sit back and enjoy nature's bounty, Spiti will immerse you in an experience that is as raw as beautiful.
The region faced massive destruction in the summer of 2013. It was completely cut off from the Kinnaur Side. The stream, Maling Nalla also wreaked havoc and cut off the Tabo/Kaza side. However, the route from Manali to Tabo still remained open. Subsequently, though, restoration work has returned most of it to its former state, the roads have been rebuilt and are now easily accessible.
As of 2020, except road widening work near Khab/Nako rest of road to Kaza is pretty good.
Choosing between Manali to Kaza or Shimla / Kinnaur to Kaza
The altitude gain is gradual from the Kinnaur while it is sudden if you arrive via Manali. This is quite critical and should not be ignored as it can lead to Altitude sickness ( AMS ). Based on our experience, we recommend driving to Spiti via Shimla and exiting via Manali. 
Another reason for driving enthusiasts is that road condition is very challenging in the Manali – Kaza section while from the Shimla side, the road conditions are benign and gradually the rough sections increase. So one is better prepared to take on the challenge. This is especially true for first timers and less experienced drivers.
Approach your Spiti road trip from Shimla instead of Manali, it's a much better experience
Manali to Spiti Road Trip
Kunzum La @ 16,500 ft (the pass that cuts off Lahaul from Spiti) is a challenging pass because the conditions of the roads are really bad. The pass usually opens in mid June and remains open till it starts snowing in Oct/Nov. As is common in the region, there is the possibility of snow anytime throughout the year. Do not be surprised if the high passes are closed even during the summer months. However, it is a temporary phenomenon and usually clears in a few days. In order to plan well, do keep a few buffer days for any contingency.
Crossing Kunzum La will be the highlight of your trip, the entire drive from Gramphu to Losar is just out of this world. Totally rough, wild, slush, streams on the road, boulders and rocks makes this one of the most exciting drive in the section. 
But only few years are left as BRO has taken over this road from PWD and wants to build a black top road but till then adventure junkies like us can enjoy the thrill and adventure this section provides. 
Late snowfall in March delays the opening of the Kunzum pass, so watch out for this update
Kunzum @ 16,500 ft
An unexpected heavy snowfall happened in 2018 when Kunzum was closed for 2 weeks in the month of September. Lots of tourists were stranded in Chandratal & Batal, which were safely rescued by the administration
Best Time For The Road Trip
January and February are the coldest month in Spiti with temperatures dropping to -20 C. But its incredibly beautiful. Learn all about the region in Winters and decide whether its for you or not
Spiti Road Trip
Spiti is often known as a world within a world. This is truest in winter, with the quaint villages going into [...]
Spiti remains under thick snow till March and as spring arrives, snow begins to melt gradually. But March is still extremely cold in Kaza with temperatures touching -10 below zero in the night. As April arrives, the temperatures begin to rise and are hovering around zero degrees in the night so it's a lot more comfortable than the biting cold. So from April, even families can plan a trip to Spiti. Kunzum will still be closed but nonetheless, Spiti will still take your breath away.
For Best Snow Experience choose April & May
You will not be able to cross Kunzum La to cross over to Manali in April & May as it is still closed but the drive from Kaza to Losar and beyond till the point the road is open will be one that will remain firmly etched in your memory
Spring Season Driving Holiday to Spiti makes you experience rugged Spiti draped in Snow and Kinnaur adorned with myriad colors of nature. A feast to the eyes and nectar to the soul
Read more
From June, the whole circuit opens. June onwards significantly good driving skills is required. So fasten your seat belts and be ready for the challenge. Snow on the road would have melted almost entirely but the streams could still pose a challenge. Adrenaline junkies should go in July and August and enjoy the challenge of crossing multiple streams.
July & August is best for water crossings
The Best Self Drive Road Trip to Spiti Valley and the rugged Himachal gives you enough time to immerse in the gorgeous landscape and experience little known places. Good driving skills and the spirit of adventure is a must !!!
Read more
September/October will be easiest to navigate and in October, you will also witness the Autumn hues with leaves changing their color from Green to Yellow. Autumn is a delightful time to experience this region and is one of the safest times to visit as well.
So for families/couples not looking for any unexpected situations, September/October is ideal.
September & October and perhaps, even November, are ideal for a serene experience of Spiti Valley
In October & November the region comes alive with culture. Marriages of Spiti happen during this time and so are various other festivals as the villagers finish harvesting their crop and have stock piled the fuel for the grueling winter ahead. Catch the Spitian way of life during this time and experience Spiti like never before.
Spiti Cultural Immersion trips brings to personal and up close to the Spitian way of life. The remote villages are perfect to get a first hand insight of the life of the locals in the remotest region in Indian Himalayas.
Read more
Spiti Road Trip via Shimla / Kinnaur
Your first-night halt whether you begin from Delhi or Chandigarh should be Mashobra / Fagu or Narkanda. If your taste is like us you can avoid Shimla.
Pro Tip : To avoid traffic Jam in Shimla take the detour via Kandaghat --> Chail --> Kufri Route
Here is our recommended night Stay options near Shimla >>
From Shimla the next recommended halt is Kinnaur. Kinnaur allows you to begin the process of adjusting to the altitude and prepares you for a comfortable trip to Spiti. Kinnaur by itself is also extremely beautiful.
You could spend the night between two options – Kalpa or Sangla. Between the two, we recommend Sangla for its sheer beauty.
Pro Trip : Plan at least two nights in Sangla. This will leave you one full day to explore the beautiful village of Raksham , Chitkul & Sangla itself. Though even 2 nights is grossly inadequate but one night is just a big no.
Chitkul & Nagasti Landscape
Raksham walk, exploring the apple orchards in Sangla , drive to Chitkul and hike to Nagasti. Fitting all this in 1 day will be a challenge
The Beautiful Batseri Village & Baspa Valley
Sangla to Nako 
After 2 night halts at Sangla, we begin the next leg of our journey to Spiti with night halt at the beautiful village of Nako. This high altitude village @ 3200 m has a small lake right in the centre and the entire village surrounds it like an amphitheatre.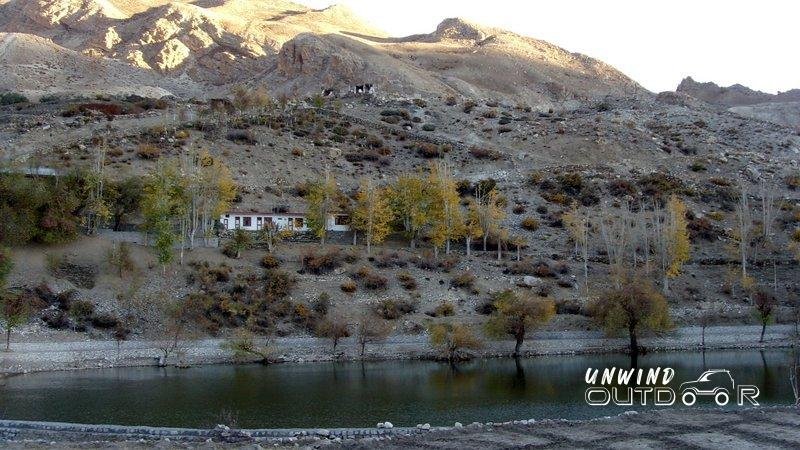 Nako Lake
In Autumn, the shades of brown and yellow adorn the Nako Village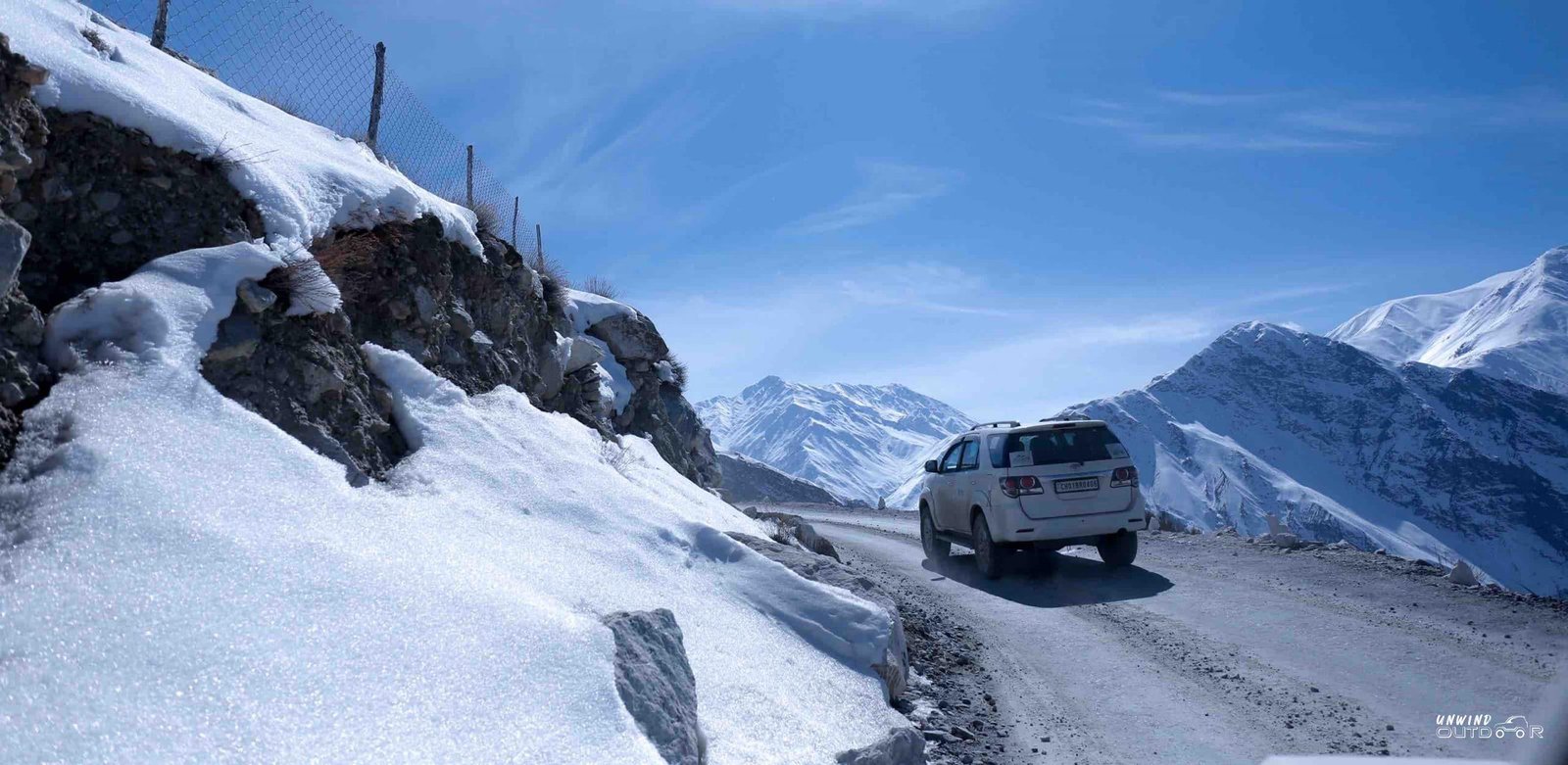 Roads Around Nako Lake
Drive on the Roof Of the World
Though the Spiti Valley begins from ITBP check post at Sumdo which is still a few hours of drive from Nako but after Khab Sangam, the terrain will be dry and barren and Nako will give you a glimpse of Spitian hospitality and its unique way of living. Don't miss the opportunity of exploring the village and interacting with the locals.
The Night in Nako is extremely beautiful especially the bonfire in the backdrop of snowy peaks with the view of the Lake from above is absolutely mesmerizing.
As you begin your drive from Nako, it would feel as if you are driving on the roof of the world. It would appear as if you have climbed to the top, the surrounding mountains are all at the same heights as yours. A short drive from Nako is Mulling nallah which has been notorious for blocking the road in the past with its raging water in July & August. The BRO has been working for few years to build the culvert and now Mulling should not pose any threat.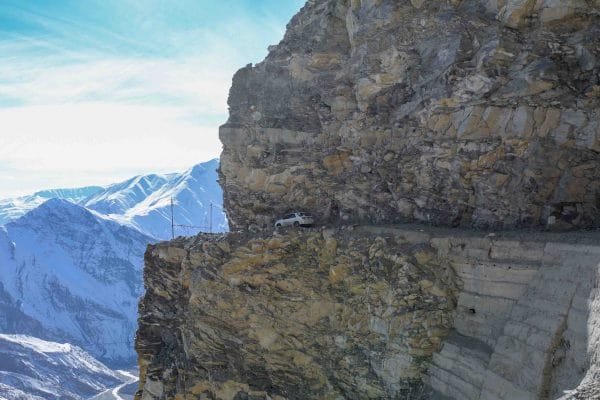 Descending from Nako into the Spiti Valley
Continue to drive till Sumdo via Chango ( If you drive in Sept / Oct you can view the apple laden farms in Chango ).
The Mystical Mummy of Gue, Spiti
Shortly after Sumdo watch out for a detour to Gue Village from the main highway.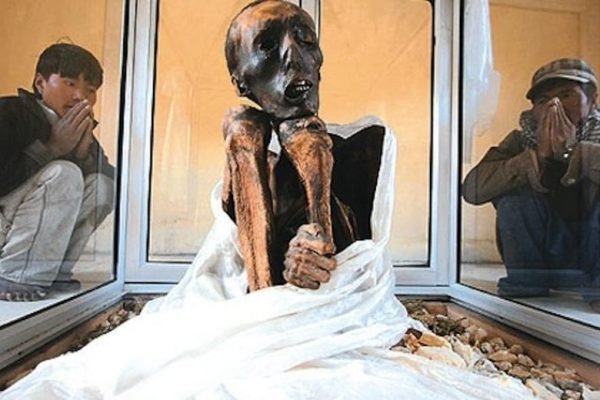 Gue has a very interesting story behind it.
About  45-50 years ago, when the Indian army was digging here to build bunkers at Gue village, their digging instruments hit a body. This body started bleeding from the corner of its mouth and they were befuddled. The body was excavated and placed in a small mud hut. No special precautions have been taken to preserve this body. It is said that the body is still in the same state as the day it was dug out and that its hair is still growing. Monks from the region visit once a year to collect its hair and take it back for worship. It is said that this body is of a lama in deep meditation and that he still hasn't died. Whatever the real truth, it does make for an awesome experience and a great story to tell firsthand.
From Gue, Tabo is roughly 50 kms. In Tabo visit the 1000 year old Monastery which is made entirely from Mud … Relish the local architecture and the peace here
Quaint village of Tabo in autumn 
From Tabo, a roughly 2 hrs drive will take you to Kaza. So if you plan the departure from Nako after an early breakfast, you will certainly have enough time for this exciting detour to the beautiful Dhankar monastery. Perched high on the top of the mountain and hanging on the edge is the gorgeous Dhankar monastery, the view of the widening Spiti Valley below is just absolutely breathtaking.
Villages Of Spiti
Many Spiti is yet to experience the modern way of living. The people still live the way they used to lived centuries ago. It makes for an interesting experience to understand the local culture and the local way of living. In order to do this, plan a night with the local family and have a home stay experience in any of the villages .. Some options are ..
Langza ( Alt: 4500 m)
Langza is undoubtedly the most scenic Village of Spiti Valley. Your trip to Spiti is incomplete without visiting this beautiful village and perched right at the highest point in the village is the Giant Buddha Statue with Monastery next to it. You can also go fossil hunting in the surrounding areas. Not to mention a chat with the local villagers.
Kibber
The Ki Monastery on way to Kibber village
You can experience how locals make Chang and Arrak, an alcohol made from barley. You can also learn how local weave a carpet manually without any machines.
Spiti Culture
Nestled within Pin Valley, between folds of the Himalayas and vast expanses of nothingness, lies [...]
Hikes in Spiti
For those interested in Hikes, lakes of Dhankar and Mane offer good opportunity to experience the wilderness of Spiti region. Both these hikes are about 5 hrs round trip from respective villages
Drive to Pin Valley National Park
At the confluence of Pin and Spiti river, lies the gateway to Pin valley National Park. When we hear the term national park, an image of thick forest comes to our mind. This is not the case in Spiti, it is desert area and hence no vegetation grows here on its own .. Only villages in Spiti have vegetation … A day trip to Pin Valley will be an interesting drive from Kaza ..
Roads Leading to Bhabha Pass
15 kms beyond Mud a dirt section leads to Bhabha Pass the road is currently under construction and offers great off-roading adventure.
Chandratal – High Point of your Road Trip to Spiti ( Alt: 4500 m)
Chandratal ( Meaning the moon lake ) is a emerald green lake , well it changes its color with the day, lake at a lofty height of 14,000 ft above sea level. Few places on earth are as beautiful as this place, surrounded by majestic Himalayas and undulating meadows and above all peace & serenity. SUV can go very close but not all the way. Last 2 kms is done on foot to reach the lake.
No camping is allowed near the Chandratal Lake
All campsite are about 2 kms short of the lake
Proper acclimatization is required to sleep at Chandratal and when you approach the trip from Kinnaur it automatically happens
After a night in Chandratal. Next day, head to Manali via Rohtang Pass to complete the Spiti Trip. The drive from Chandratal to Manali is a delight for off roading enthusiast and scary for leisure traveller. There are numerous raging streams between Batal and Chattru and then right after Chattru till you merge on to the Rohtang Road .. Enjoy these challenging sections and end the trip on a high ..   Pangi Valley can be added to the Spiti Trip as well provided you have more time.
Spiti Culture
Nestled within Pin Valley, between folds of the Himalayas and vast expanses of nothingness, lies [...]
Spiti Culture
A quiet moment in Spiti Valley For a long time now, I have visited the [...]
Spiti Road Trip
Spiti is often known as a world within a world. This is truest in winter, [...]