Nestled within Pin Valley, between folds of the Himalayas and vast expanses of nothingness, lies the tiny village of Todnam. Having travelled extensively through the region, I now know that Life in Spiti Valley is unlike anywhere else. And while even the larger town such as Kaza has taught me immensely about the elusive concept of happiness found so easily in the mountains, the smaller villages impart bigger lessons. 
Consisting of a total of ten households, this is as small as a village gets. Yet, this village is as distinct as any other, with its own customs, festivals and routines. As with the rest of Spiti, life here follows a set graph, preparing for and then living out the winters. 
The summer months are spent being active and efficient, with excessive physical labour that is undertaken with a jovial disposition and amazing dexterity. Life here is mainly agrarian, and all pursuits are towards the cultivation of the financially viable pea crop. The cultivation of peas has brought a lot of prosperity to this village and as a downside, almost done away with the cultivation of other crops such as the traditionally produced buckwheat. The cycle starts around the first week of April, as some of the snow begins to melt. The ploughing season is in full swing and yaks are used for the purpose. It is still an arduous task, both for the people and the yaks. The farmers sing songs glorifying yaks and praise their strength and vitality. As we hear about wet markets and cruel animal rearing practices so frequently that it has stopped making our skin crawl, the reverence that locals treat their animals with is not only surprising but jolting.
The spirit of gratitude is so all-pervasive that it includes every being connected with their lives, a fact that we are too far removed from to realize. We take for granted everything in our consumeristic world, while some people still sing songs in praise of Yaks. 
The animals they rear are one of the most important aspects of the locals' lives. While there are some cows for milk and donkeys to carry loads, it is the yaks and the famed Chamurti horses that are their prized possessions. For a life in the middle of nowhere, it becomes important to make full use of their resources. In keeping with this, yaks are used for a range of purposes – on the fields, for milk and cheese, their fur, and on rare occasions, for meat. Being a cold desert, vegetables here are scarce, especially in the winter, and dried yak meat is a rare treat used as a stuffing for momos during that time. 
The Chamurti horse, also known as the Spiti pony, is indigenous to the Pin Valley. These horses are prized more than anything else for their agility and ease of riding. There are places as yet inaccessible by any other modes of transportation, where only these horses can take people. It is no wonder that they are in great demand and are even used by the army in the region. Locals sell these horses for a handsome sum of money and go back to rearing and training young colts.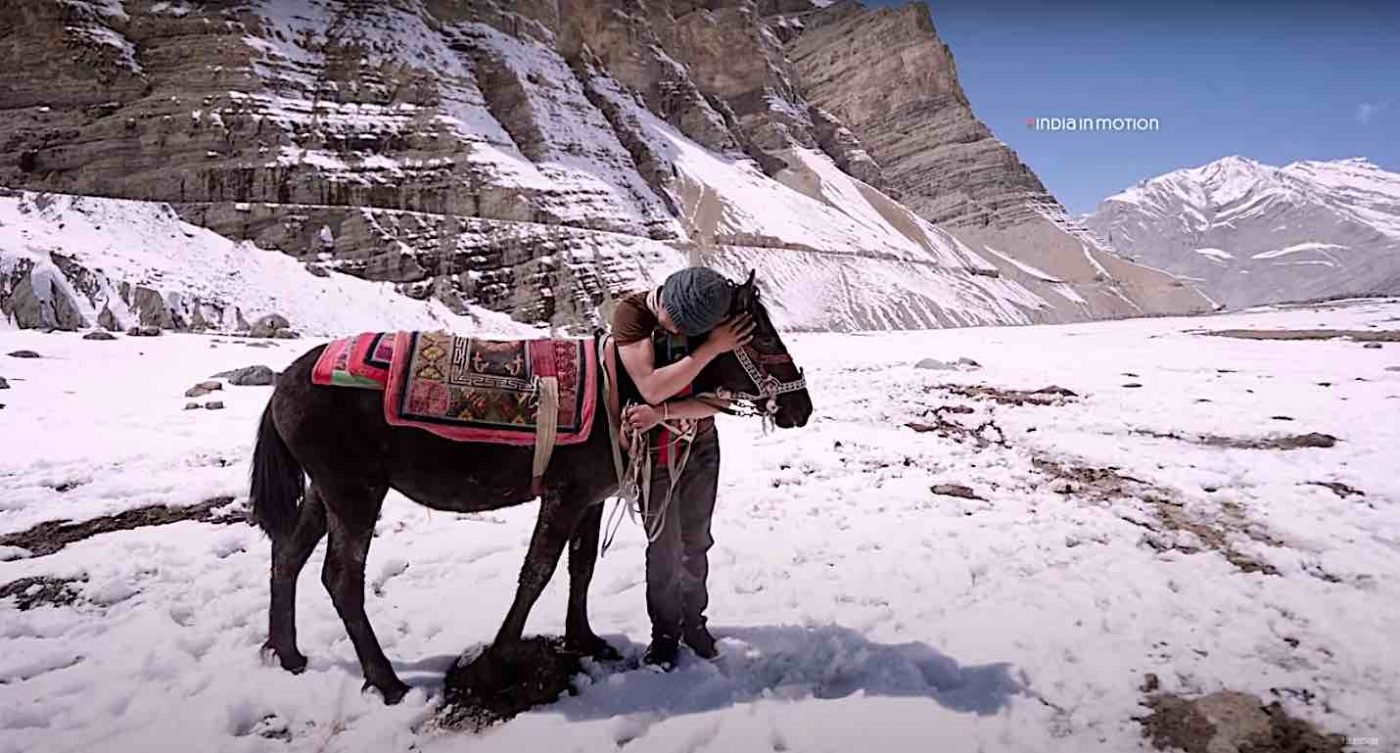 Spiti works as a community and the shared aspirations of people are what make life in these harsh conditions bearable. Be it huddling around the kitchen to prepare dinner, or out in the fields, the workload is shared equally between men and women, and almost always in the company of other villagers.
The herds of animals are watched over in pairs, taking turns through the season. What strikes one as unique is the complete dissolution of a sense of self, and a heartening stress on the community as a whole. This uplifting attitude transcends into the big and small things equally and makes Spiti what it is. 
The kitchens of the homes in Todnam are the epicenter of all activities. Warmed by the traditional bukharis that use wood and gobar to generate heat, all sorts of indoor activities are performed here. As the women sit knitting socks and weaving carpets for their homes, they sing songs that warm the heart a little more than the bukharis. 
The concept of communal living is apparent not just in daily tasks, but also in all major life events. As winter approaches and people have more time on their hands, the village really comes alive with festivals, archery competitions and free-flowing alcohol. The Sunchok, a ceremony for long life, native only to the Pin Valley, sees the villagers come together along with lamas from nearby monasteries. This is of course, a large expense for the family organising it and even in such instances, villagers pitch in not just in preparations, but also financially. The entire village gathers to bake over a thousand flatbreads to distribute amongst the guests and monks, they dance together while the ara flows, and give the organising family money as a gift. This is a cycle that carries on as everyone partakes in every home's Sunchok. 
For a village of this size, Todnam has an uncanny ability to capture your heart. Standing on the land flanked by a crown of imposing mountains, where nothing hits the eye for miles and miles, and then to witness giggles and high-pitched songs, a flash of coloured  dresses and the obvious merriment, is an experience I have travelled miles to live.
How we define community in our modern societies is an egoistic manifestation of identity. The people at Todnam, are instead living out the true meaning of the word. While they drink to each other's health and dance to the tunes of someone else's happiness, there is an exuberant feeling of belonging that they seem to carry in their hearts. The people of Todnam have the privilege of knowing that there will always be an entire clan to care about them, their hopes and sadness. Everything they do for each other is a reciprocal arrangement of affection and unity. It would serve us well to visit this obscure village and realize what gratitude, camaraderie, and kinship really mean. A lesson that would no doubt prove to be priceless in a world overridden by greed, power struggles, and capitalism. 
A quiet moment in Spiti Valley For a long time now, I have visited the [...]
Spiti is often known as a world within a world. This is truest in winter, [...]
If you feel most at home in the remote & rugged region of the Himalayas, [...]
10 Comments