While most property owners are directing their energy towards advertising their property, some hotels still want to remain secluded and exclusive. Binsar Forest Retreat is one such property, with the clear ethos of connecting with nature. This is exactly what is expected from guests as well. This is probably why their daily tariff also includes a hike – to get people to really explore the rich surroundings.
Located enviably on a sequestered ridge in the Binsar Wildlife Sanctuary, a 48 sq km area of dense forest land, Binsar Forest Retreat attempts to bring comfort and hygiene to eco-friendly living. The property features a collection of stone and wood cottages, all of which offer enviable views of the surrounding peaks such as Trishul, Nanda Devi, Nanda Kot and Panchachuli. The retreat is situated on land previously occupied by a Major Edin during the British rule and has hence come to be known as Edinpur. The forest that looms over the retreat had tigers roaming freely around up until as late as 1920.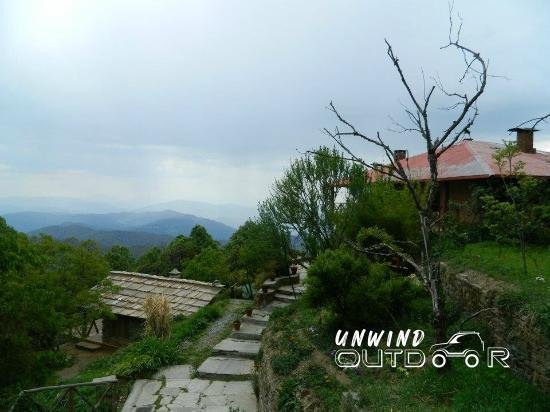 The views from the retreat are magnificent
Although the tigers are long gone, the Binsar Wildlife Sanctuary still affords plenty of opportunities to spot flora, avian species, and Himalayan wildlife. With over 200 varieties of birds that can be spotted easily, it is an ornithologist's paradise. There are also barking deers, gharals, wild boars, foxes, and the coveted leopard to be spotted.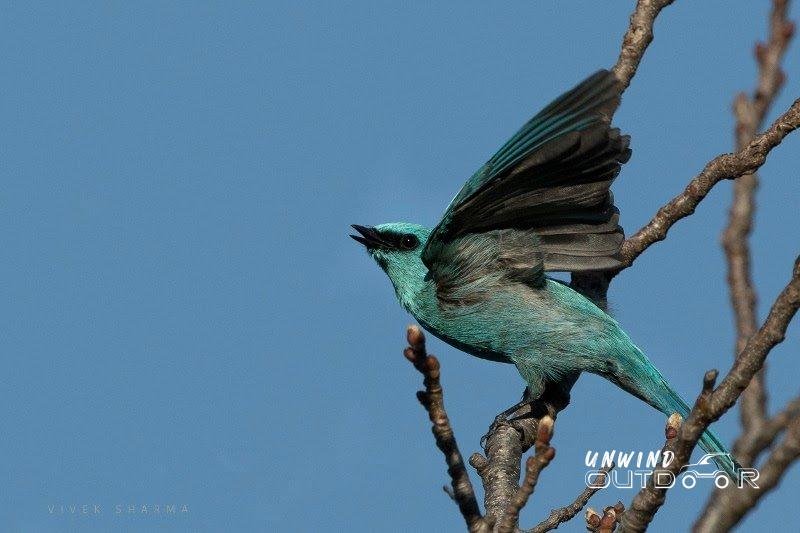 The Binsar Wildlife Sanctuary is an ornithologist's delight
What sets Binsar Forest Retreat apart from the other properties though, is the keenness of the owners to keep the retreat eco-friendly. Owned by a tech couple who left the city life for the mountains and a Delhi restauranter who live on the property itself, the retreat exudes a warmth that can only transpire as a result of unwavering passion. From using only solar electricity to soap nuts for dishes and laundry, harvesting rainwater to providing plug points only in the living area, everything is done to conserve the environment and create a sustainable model of living.
It is clear that the couple, who invested 14 years' worth of savings into creating this refuge, are not doing it just for the money. There is a genuine respect and love for the mountain and that is the feeling they want the guests to be imbued with as well. 
There are numerous hikes and walks to discover and the couple frequently accompanies guests. The walks have been curated for people of all ages and fitness levels. They claim that anyone can go on these trails, even typical city dwellers. The rooms are all comfortable and warm, with wooden flooring and ceilings, large windows, and understated furnishings. They also have some swiss-style tents for people who like to be even closer to nature. 
The experience of taking the short hike up to the retreat (or in their jeep) is laced with oak and rhododendron trees – a hallmark of Kumaon. The estate has been built remarkably well with a huge terrace to spend the afternoons at. Read a book here while waiting for the sunset to colour the sky in vibrant shades. Occasional Himalayan Griffins will circle over your head and the sublimity of this life will hit you.
Hike around to spot the wildlife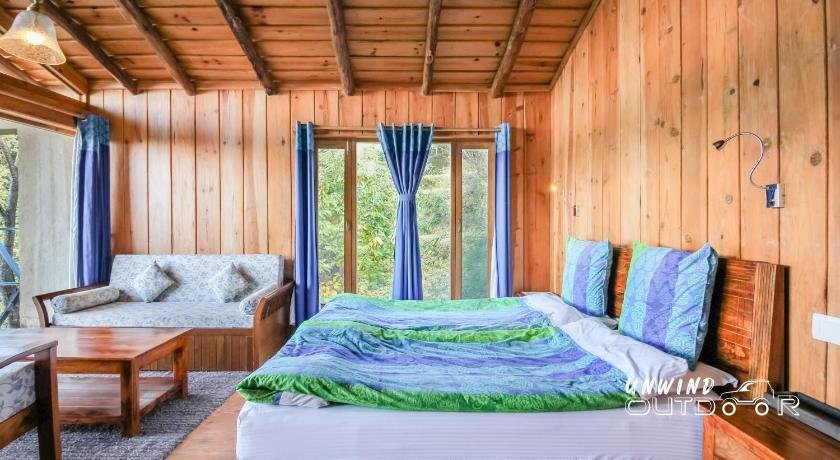 The food at Binsar Forest Retreat is also a highlight. Serving only vegetarian food to keep wild animals away from leftovers, they use fresh local produce to make a mix of Kumaoni and continental fare. The menu is set and there is no room service. All meals are served in the dining room in buffet style. There are dishes like ragi pancakes, local wild spinach with cottage cheese and gahat ki dal, a local Kumaoni lentil stew.
Spend your days here doing what the owners suggest – take plenty of walks, laze under the sun, have a chat with the local help, eat sumptuous food and just let it all sink in. Binsar Forest Retreat is one of those few places that is actually maintaining sustainable living in the mountains. Stay with them for a chance to disconnect from your set ways around technology and wastage and see what it feels like to connect with yourself and nature.