Whether you're an authentic wayfarer who travels to immerse yourself in the local culture or a city-dweller taking respite in the mountains, there is no denying that food is a major part of how satisfactory your trip will be. The most enjoyable trips can suffer from a dip in enthusiasm if the food is not up to the mark. Thankfully, Ladakh has no dearth of great restaurants with food that will leave your stomach full but wanting more.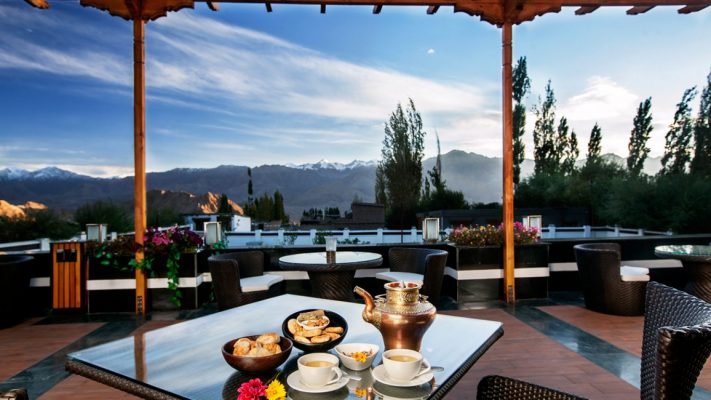 From Tibetan food to continental food, burgers and pizzas to noodles, all sorts of cuisine are readily available, especially in Leh. Even in the more remote parts of Ladakh, food is not much of a problem and there is generally something available (maybe even on request) to suit your requirements.
Have a Tibetan lunch at Tibetan Kitchen or a gratifying Chinese meal at Chopsticks. Enjoy the romantic ambiance of Bon Appetit or the rustic charm of Cafe cloud. Go fully authentic with a Ladakhi meal at Alchi Kitchen, a wood-fired pizza at La Piazzetta or have a light vegan bowl at Bodhi Greens. Find Neha Snacks for the only place with North-Indian chaats and exceptional taste while standing right in Leh Market or sit in a five star restaurant at Grand Dragon or Ladakh Sarai and have a quiet meal prepared by trained chefs.
Below is a list of our favourite places to eat in Ladakh :
8 BEST RESTAURANTS IN LEH –
Where : South of Changpsa Road, Leh
Claim to fame : Candle Light Dinner, Pizzas and Wine
Hidden south of the Changspa Road, Bon Appetit will simply blow your mind away with its ambiance. Our favourite amongst the best restaurants in Leh, the view from the restaurant of the surrounding mountains is simply staggering and the sunset will take your breath away. Whether you're having a cold beer or a glass of wine with your beloved, the experience is simply amazing. The indoor seating is charming as well with books and board games available. The food is supposed to be equally delicious with the pizzas deserving special mention.
UO takes : If there's one place you go to for a combination of good food, great ambiance, nature and wine, make it Bon Appetit ! It will surely not disappoint. End the meal with their famous chocolate momos for dessert.
Where : Fort Road, Leh
Claim to fame : Authentic Tibetan Food , Gorge on Momos & Thupkas
As the name suggests, The Tibetan Kitchen is the go-to place for authentic Tibetan food in Leh. Don't be fooled by the humble exteriors, this place is actually one of the most famous in Leh. The indoor dining area has a zen-like atmosphere while the outdoor seating is casual and cute. The service is exemplary and all reviews point to the more than satisfactory experience of eating here. Vegetarian and vegans will find options too but the Chicken Thukpa deserves a special mention.
UO take : Although the restaurant serves Chinese, Indian and Tandoori fare as well, we recommend sticking to the Tibetan cuisine that it is most famous for.
Where : 2 Outlets, Monastery road, Alchi & Old town, Leh
Claim to fame : Authentic Ladakhi experience
Run by a mother-daughter duo, Alchi Kitchen was started in 2016 by Nilza Wangmo with a dream to bring authentic Ladakhi food to the world. And the restaurant has succeeded in doing just that with 3 branches already! One needs to try the Tashi Tyage Tea, one of the best sellers, which has been carefully curated using 8 ingredients. The Khambir, a type of bread and the Chutagi, a dish similar to pasta, are must tries too. The good news is that if one is short of time and unable to go to Alchi, they now also have a branch at Old Town, Leh, making it one of the best restaurants in Leh for Ladakhi food.
UO take : Alchi Kitchen is probably the only eatery in Ladakh offering a truly local experience. The setting is also as Ladakhi as it comes. The food incorporates a modern twist on traditional fare and is worth trying for the surprisingly great taste.
Where : Saboo Village Road, Village Ayu, Leh
Claim to fame : Superior set 8-course meal by a renowned chef
Ladakh has a habit of surprising us and it is no different where food is concerned. Finding this gastronomical extravaganza in the middle of no where is a happy surprise for tourists. Housed in the famous Ladakh Sarai Resort, this restaurant will be a heady experience for your eyes and taste buds. Taking the farm to table concept to the next level, the restaurant offers a set 8-course meal using the choicest local produce and presenting it in unusual ways. If you don't mind the pocket pinch, definitely head here!
UO take : While we look out for authentic local dining experiences as much as we can, we cannot deny that Syah piques our curiosity. The allure of tasting fresh local produce whipped up by a grand chef is undeniable and that too amidst a beautiful al fresco setting.
Where : Leh-Manali Highway, Thiksey, Leh
Claim to fame : Garden cafe vibe with great food, Ideal for Lunch
One of the only options available for good food South of Leh, in Thiksey, Cafe Cloud is a perfect stop for lunch. One can get mouth-watering food to accompany an authentic latte. The soups, fresh salads, sandwiches and pizza are surprisingly tasty and the views add to the charm. Make sure you stop here on the way back from Pangong or after the visit to Thicksey Monastery
UO take : One of our favourite places to eat at in Leh, Cafe Cloud has been serving up impressive dishes and real coffee since before cafes spurted up all around. The tranquil setting and garden cafe vibe make it an experience to remember!
Where : Raku Complex, Fort Road, Leh
Claim to fame : Lip-smacking Chinese
If you're an Asian food lover, look no further than Chopsticks Noodle Bar. Located right on the main market, the simple interiors and lip-smacking food are a major tourist draw. Whether it's the momos you gorge on or the simple butter tea, everything is tasty enough to bring you back for more. The Thai curry is supposed to be one of the best in town. The food served is fresh and you can be sure of this because they do not even possess a refrigerator. This is no doubt one of the best restaurants in Leh for chinese food.
UO take : While people experiment with the wide variety of cuisines available here, we like to stick to the popular dishes, i.e. mainly Chinese and some Thai. It must be mentioned that the place is also kept spotlessly clean.
Where : Old Fort Road, Leh
Claim to fame : Superior Quality food in 5 star ambiance
Housed in the premium Grand Dragon Hotel of Leh, the Taste of Grand Dragon is their restaurant that offers great food at premium prices. The restaurant is one of the few fine dining experiences in Ladakh. All reviews are exceptional and if you prefer the comfort of eating Popular cuisines in a modern restaurant over local food, this is the place for you.
UO take : You can be rest assured that whatever you order in this restaurant, the taste will be par excellence. In a place like Ladakh, finding trained chefs who can dole out all kinds of cuisines with equal aplomb is rare. The Grand Dragon offers amazing food for a premium price compared to the other restaurants.
Where : Main market, top floor IDBI Bank, Leh,
Claim to fame : The food bowls with spectacular views
The one-stop you need to make for vegan and vegetarian food in Leh is Bodhi Greens. With spectacular views from its terrace seating and fresh meals in bowls, this cafe does not disappoint. They have excellent salads and pastries which one can chew on contently while watching the market crowd below or the far off mountain ranges. Think healthy and fresh food and Bodhi Greens is a top contender – one of the best restaurants in Leh for vegan food.
UO take : One of the rare vegetarian eateries in Leh, Bodhi Greens makes healthy food look good! Be it there fruit basket, smoothies or the nutritious falafel bowl, they're as instagrammable as they come. The beautiful views also make for a great backdrop to work against.