After reading Part One of our epic journey to Zanskar Valley, we're sure you're dying to know the rest. This part covers our journey through Padum, Rangdum and the famed Drang Drung Glacier.
OUR TRIP TO ZANSKAR (PART TWO)
THE PHUKTAL GOMPA
At about a 40 minutes detour from Purney, lies the famous Phuktal Gompa, a monastery I have been looking forward to visiting. Having a local with us, I decide that it is the perfect time to undertake the hour long hike to the monastery. The locals have the dexterity of mountain goats. We are not nearly as blessed and after a lot of cajoling and reassurances from our friend, we muster the courage to put a foot on a rock or slide down the loose terrain in places. When we reach the top, we feel like we have conquered a mountain of sorts, but that feeling is quickly replaced with awe. 
The Phuktal Gompa is much like Bhutan's Tiger Nest Monastery. Seemingly rising from the cliff itself, with no distinct base, much like an organic growth on the rocks, it is a marvel. One cannot begin to imagine the labour and planning that must have gone into building this monastery. We are still standing with our jaws open, clicking pictures after pictures, when our friend ushers us into the monastery. Having visited Ladakh extensively, monasteries do not enthrall me as much, with there being not much that sets one apart from the other. However, the minute I set foot into the courtyard, I am overcome with a feeling of tranquility. This feeling of calmness is not a forced quiet, but a silence that reverberates inside me, and I feel like I never want it to end. As if a spoken word or a rogue thought could shatter the deep peace that has pervaded my being.
The marvel of architecture – Phuktal Gompa
The feeling is thankfully not disturbed, and I suspect that my companions are cocooned in it as well, for we wordlessly point to each other where to go next. The monastery is built into the caves and we pass through what seems like an endless labyrinth of tunnels. The smell of butter lamps is heady and their flickering lends an esoteric aura to the room we are in. At that moment, a bell chimes and I look around for the source. I am told that the entire monastery is connected with pipes that carry the sound of the main bell on the top. We light a butter lamp at the altar, and make our way into the courtyard, a warm shelter from the cold winds. We are treated to peanut butter, bread and butter tea here and enjoy polite chats with some monks. 
PADUM
After the detour to Phuktal Monastery, we head back to Purney and start for Padum. There is a minor hold up because the BRO is working on a new road. As I gaze out, looking at the labourers toiling in the cold weather, I see a sight that is unnerving and also unbelievable. One of the workers casually dipped a stick of dynamite into the ground using one hand while holding a burning cigarette in the other. We nervously laugh seeing this and silently pray that nothing blows up.
Crossing a bridge after Purney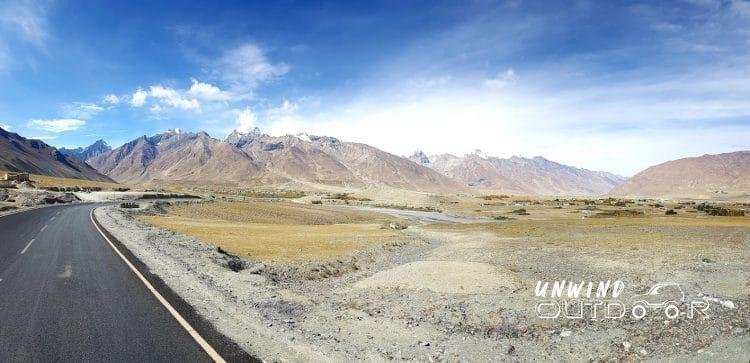 We finally reach Padum by late evening. The only real town in Zanskar Valley, Padum is not what we expect. There is a bustling market, restaurants, salons and full hotels. We have no choice but to look for a hotel at a slight distance from the market, and we find a clean, comfortable one at a short distance. Our room has a spectacular view of the Zanskar Valley mountains and after a simple dinner, we prop ourselves up by the window, with drinks and the camera. Ashutosh is busy trying to shoot the brilliant night sky, while I sit back and let loose. It has been a good day, with even the 20-30 kms leading to Padum being smooth roads. Our backs have not entirely recovered, but the rewards more than make up for the arduous drives.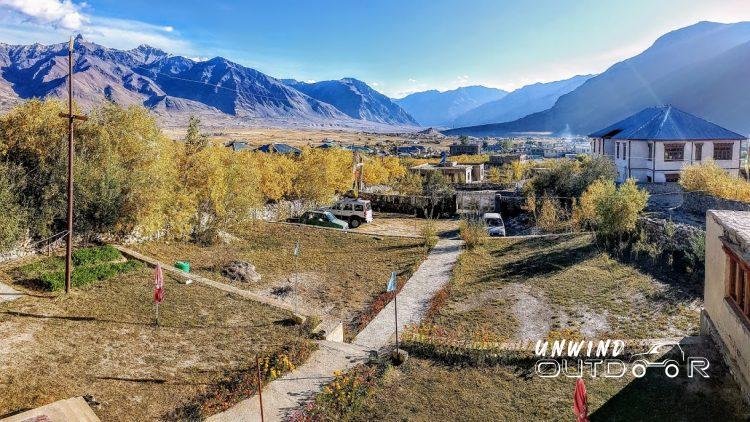 Finally arriving at Padum
SPOTTING THE DRANG DRUNG GLACIER
The next day, we decide to head to Rangdum, which lies at an equidistance on the other side of Pensi La. It is a long journey, but one that we are very excited about as we cannot wait to see the Drang Drung Glacier from Pensi La. The most photographed location in Zanskar Valley, the glacier is truly a beautiful sight. Tugging through the mountain slowly, we finally arrive at Pensi La. As we peer down, we are speechless for a few moments. The Drang Drung is a huge glacier, like Gangotri, but unlike most glaciers that need to be hiked up to, it seems to almost hug the road. Descending down between the mountains in a river-like meandering style, it is beauty frozen for eternity. We spend some time just gaping at this sight, taking in the magnitude of what lies around us. After a thousand photos, we tear ourselves away from here and start our descent into Rangdum, where we spend the night.
The breath-taking Drang Drung Glacier. We could not tear our eyes away.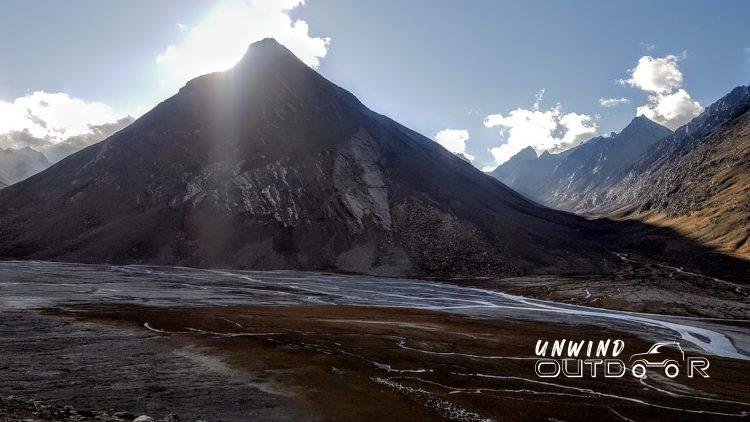 A beautiful moment while descending from Pensi La
It is our last night in Zanskar Valley and we begin our journey to Kargil the next day. As we leave the mainly Buddhist Zanskar Valley behind, we are greeted by a mosque on the way, a sure sign that we are close to Kargil. The lines of dense trees that flank the roads create a tyndall effect and as the netted sunlight beams through, we find ourselves missing the bumps of the journey to Zanskar Valley. As thankful as our bodies are, our soul has not had enough and it is a place I feel sure we will return to. 
We return to the melee of Kargil, a phenomenon that takes being accustomed to after the barren Zanskar Valley. And while a semblance of civilization is welcome, specially the hot showers and clean toilets, I know the moments spent driving through Zanskar Valley will keep returning to me, in moments of silence and reflection, much like a forgotten childhood memory that resurfaces in moments of unadulterated joy.