The minute I heard that a new route leading into Zanskar Valley was functional, from Shinku La into Padum, I knew it was a trip I would take soon. In the October of 2019, my photographer, Ashutosh, and I, embarked on an adventure we knew would break our backs but fix our spirits. 
Being a traveller in the truest sense of the word, my takeaways from all my travels go beyond the experiences. What I bring back is a wealth of introspection and inspiration to live life anew. It is why I keep choosing the remotest of mountain villages, for it is only as being spectators to a life untarnished by tourism that one can imbibe what one goes out to seek.
If your travel style is better defined as 'vacationing' or 'holidaying', then chances are that you would give Zanskar Valley a miss and head to the more adequately-equipped and glamorous Leh. But if the zest to travel runs through your veins and you seek experiences to reminisce about years from now, then Zanskar Valley may be your most memorable trip ever. 
OUR TRIP TO ZANSKAR VALLEY –
Setting forth on our journey to Padum from Manali, we bid farewell to our favourite hoteliers at Ride Inn and move forth to Jispa. Jispa remains one of the most beautiful towns I have visited and we decide to spend the night here before undertaking the daunting journey into Zanskar Valley. 
We rise fresh and invigorated, have a quick breakfast and get into our car. There is a mix of excitement and dread that we feel and we prepare ourselves for the worst. The descent from Rohtang to Lahaul Valley is lined with fields and we pull over to have a quick chat with the many women working on these fields. Lines of cauliflowers dot the plantation and we discover that these women are mainly from Nepal, here to work on the fields from summer until autumn. We stretch our legs and say our goodbyes to the ladies and are meted with laughter. There is something about the crinkling of eyes on a face dried out by the sun that just catches you off guard, I think as I rationalize the rush of warmth that I feel. 
THE JOURNEY TO SHINKU LA
Passing through these smooth roads has been a breeze, but the real challenge begins on our ascent to Shinku La. The first thing to be mentioned here is the lack of any eateries along the way and one should always carry sufficient food with them. As far as the drive is concerned, this is where the back-breaking journey starts. The road uphill is a series of sharp hairpin bends and our Scorpio has a long turning axle. This means a lot of back and forth and the Scorpio being a diesel car, it is almost impossible to conquer this steep climb without the inertia of movement. The only thing that comes to our rescue is engaging the 4×4 and at this point, I would strongly suggest not undertaking the journey without a 4×4 drive.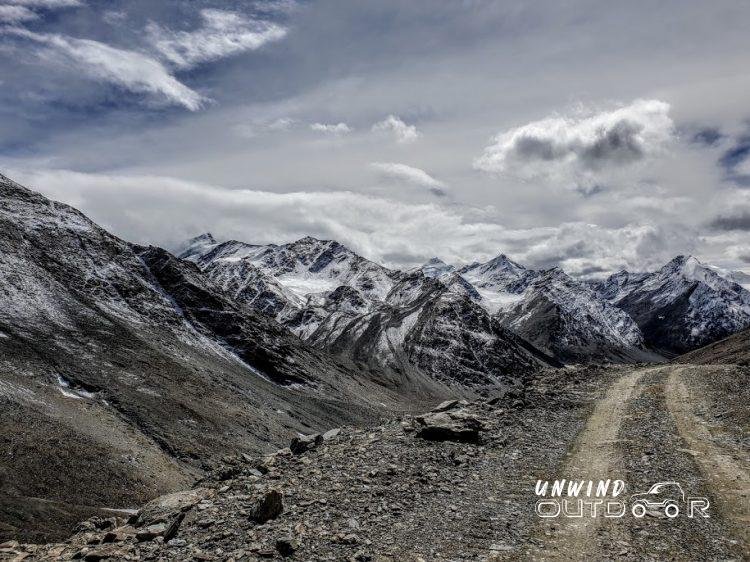 The dramatic landscape en route Shinku La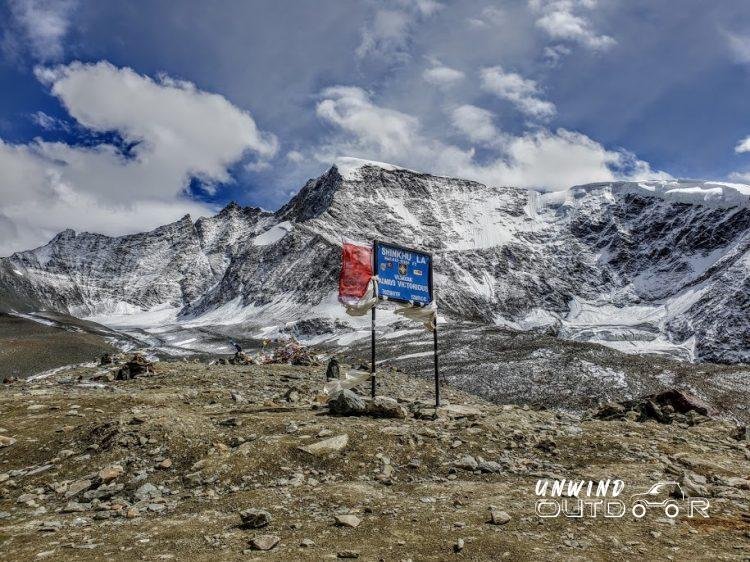 As we manage to climb uphill, slowly but steadily, our bodies resembling rag dolls, we come upon stream crossing after stream crossing. There are no markers here to guide the way and we make calculations based on our limited knowledge but luckily, we arrive at the magnificent Shinku La without too much trouble. We spend some time here clicking pictures of the glacier and its stream, and looking around at the jaw-dropping scenery, everything blanketed by the snow. We huddle back into the warmth of the car and begin our descent into the other side. The path is full of hairpin bends again, and our struggle continues. We spot another glacier with an accompanying stream here. Close to the stream, we find a small shop and disembark for a cup of tea. The shop owner is boisterous and tells us about how the untimely snow last year blocked the route completely and left so many workers stranded. Fortunately, all of them were rescued. We bid farewell to him and continue our drive. On the way we are greeted by a local driving a pickup truck. I am amazed at how his rickety vehicle is coping in this terrain and am shocked to learn that he has a 4×4 drive too! We have a hearty laugh, shake hands and move in opposite directions.
Crossing streams on the way to Shinku La
ON TO PURNEY
The drive to Kurgiakh is uneventful and we reach this utterly beautiful village by mid afternoon. We have our lunch by the stream that flows right through the village to join the river originating from Shinku La. Our lunch is a simple meal of Aloo Parathas packed by our gracious hotel owner in Jispa. The food warms our bodies as we start to feel the nip in the air. Reluctant as we are to leave the gurgling of the stream behind, we are also in a rush to reach Purney. For all the mental preparation we have done, we are completely unprepared when the first few jolts hit our body on this path. A cloud of dust formed by the loose soil covers our SUV entirely and as we attempt to brush it off from the side mirrors, we are rewarded with a magnificent view. Behind us lies the solitary and spectacular Gonbo Ronjon mountain. It is a mountain unlike any other that I have seen, standing singularly and symmetrically tying up the surrounding landscape into a sight to behold.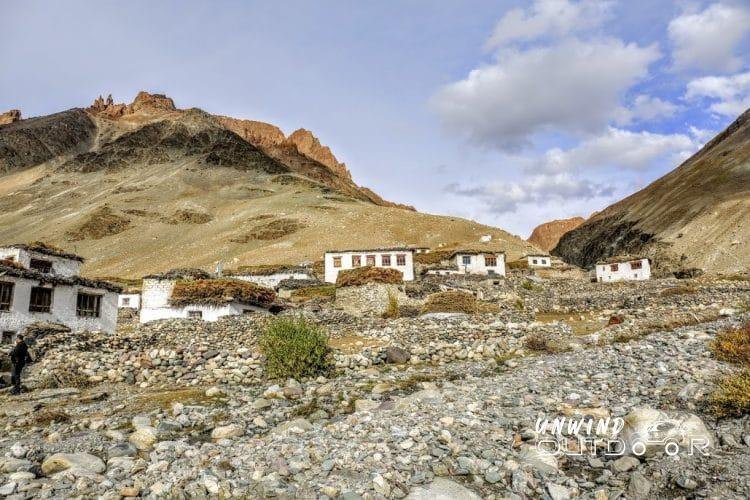 The charming Kurgiakh Village
The solitary Gonbo Ronjon
We brave the rough path with cries of pain, sometimes using laughter as a means to distract ourselves. We cannot wait to reach Purney and get off the car. We almost cry in relief when our GPS tells us we've arrived, but it is a short-lived joy as it turns out to be wrong information. As we finally find our way into the village, we make way to our homestay for the night. Our journey has completely worn us out and all we can manage to do is accept hot tea and a simple meal before retiring for the night. We make audible groans as we lie on our mattresses, all but ready to pass out.
The next morning is kinder on us, and we wake up to the sound of a tractor. Making our way out, we witness the process of winnowing. Piles of wheat lie on the ground and a tractor makes circles around it to separate the husk from the crop. We are asked to freshen up, and we proceed to doing that.
We face the challenging task of using traditional dry pits, water being a scarcity in the region. In almost all Zanskar Valley, in typical Ladakhi tradition, there is no water inside the houses. There is generally a sole tap outside the house, where one draws water to brush their teeth or have a bath. Modern houses are slowly cleaving away from this practice, creating tremendous strain on the ecosystem. 
We have a hearty breakfast of eggs and rotis before we leave for Padum. Our hosts' family friend decides to join us for this leg of the journey and we are happy to listen to his stories. He has a tendency to hum tunes under his breath, and we ask him to sing out loud and he obliges us. He keeps us in lively spirits throughout, almost making us forget the constant rollercoaster effect of the roads.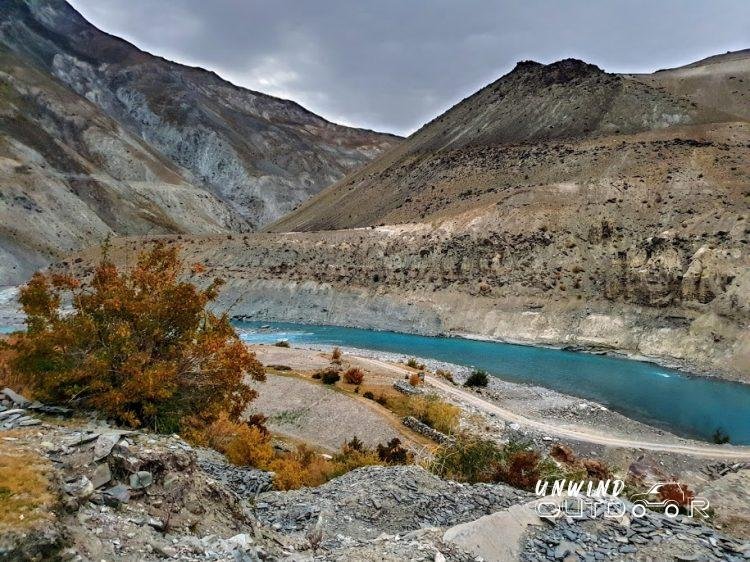 Sights near our homestay in Purney
Daughter of our hosts playing in the open 
Read about the rest of our trip in Part Two of this series.